Making the Best of Savagery CONTACT AUTHOR


NEW Silent Key in St. Augustine -> News

Meating Place Is 55 -> News
WILDBLOOD on THOROUGHBRED -> Photos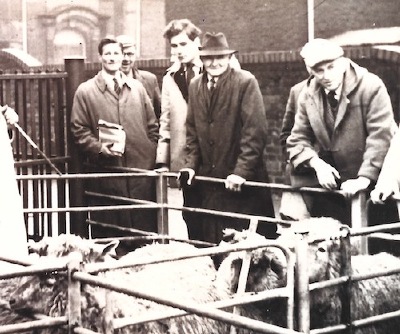 Wholesale meatseller John Roland Wildblood (1910-78), far right, at sheep auction in South Malton, North Yorkshire. The picture was provided by his daughters Jennifer Bettsworth and Sarah Bell during a visit in 2008. A photo of John with his wife Kathleen Arnott has been added to Photos.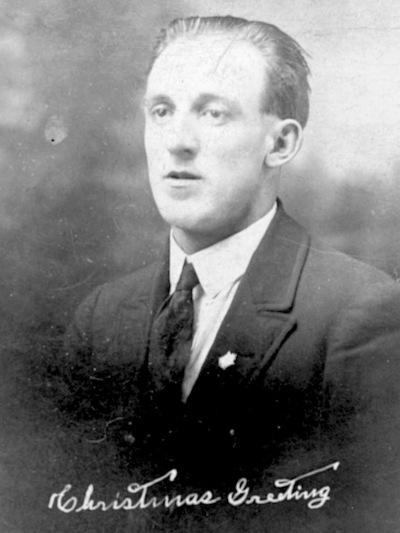 Decorated with a maple leaf, Robert Thomas Wildblood sent this photo to his niece Rosemary back in the Old Country. When? Our best guess is a century ago, about 1922. You are able to admire the emigrant thanks to heirloom preservation by Rosemary's daughter and by family researcher Barbara Simpson. Another picture of the Manitoba farmer is found by scrolling halfway down our Photos page and under a 2017 News post.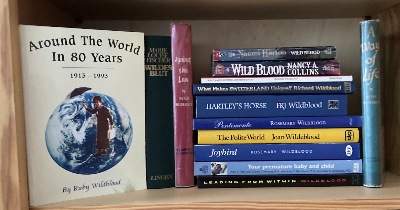 This collection could be called a one-name library. The dates of publication range from 1955 to 2021, hot off the press in October. The authors include Amy, Joan, two Peter's, Richard, Roger, Rosemary and Ruby. Published in England, Australia, America, New Zealand and Germany, they belong to the little freckled carrot top seen just below with Santa.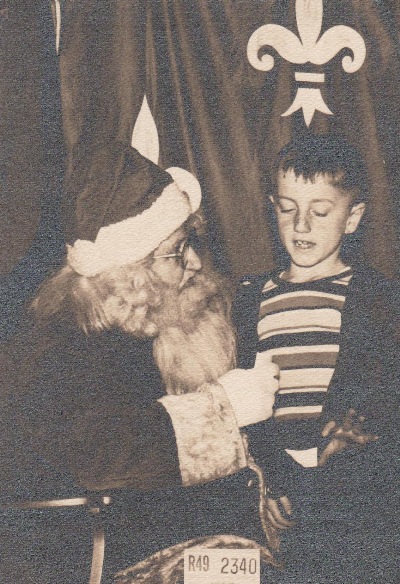 It's Santa time again. This modest little Wildblood boy seems to want something small. The young redhead is too big to sit on the bearded fellow's lap. If "R49" means 1949, the lad would be going on six, a first grader at Mercerville School near Trenton, New Jersey.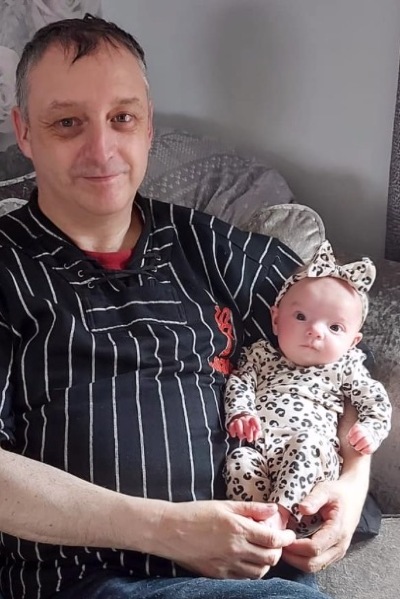 Marc Wildblood from Burnside and Stanley, Durham, shown in June 2021 with his new grandchild, Maia Kate, about three months old on Father's Day. The birth of a healthy granddaughter prompted Marc to get serious about Wildblood history in Staffordshire and Durham. Marc wants to make sure the girl will know more than he did about his Wildblood forebears. Much more about the Durham Wildblood clan and ancestry can be found on our News and Photos pages.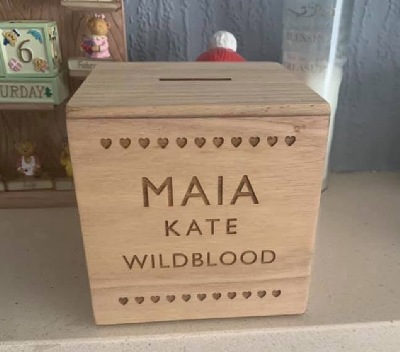 Maia is the daughter of Ryan George Wildblood and Caitlin Lamb.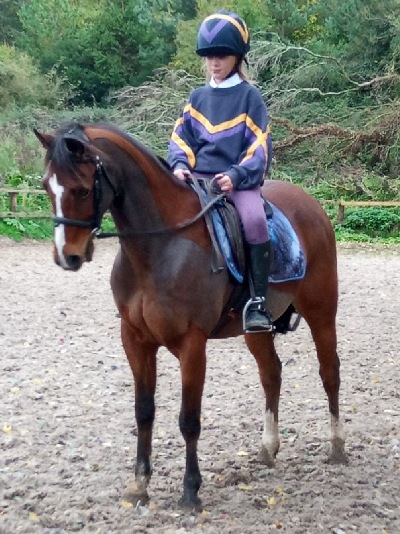 That's Bess on Merlin riding in Northamptonshire. She is 11 and tied for 13th in an E-Rider online dressage during the winter of 2021. A doll-size Bess and her whole Wildblood clan can be seen below sandwiched between a maple leaf and a Santa. By some mighty strange wizardry Bess' great-grandpa's birth registration in Bristol is seen immediately below the hoofs.


100 Years Ago Four lines from predecessor Harry Charie's red book of Wildblood births in England. First column is year and quarter plus Alan's specification. Second column has places of registration. Third column is mother's maiden name, followed finally by the 1921 baby's name. Two of the children are from Staffordshire and two from Shropshire trees.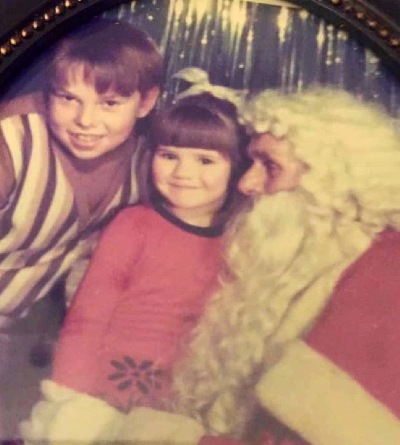 This Christmas we revisit our Rochdale family. It is about 1967. The girl is Catherine Wildblood, the boy her brother Andrew. If you want to see what they look like as adults, Catherine Smith is on the website's News page under 2010. Her brother is seen below in 2016 with his Ontario license plates about the time he "eloped to Niagara." Now all we need is a picture of Santa when he was a child.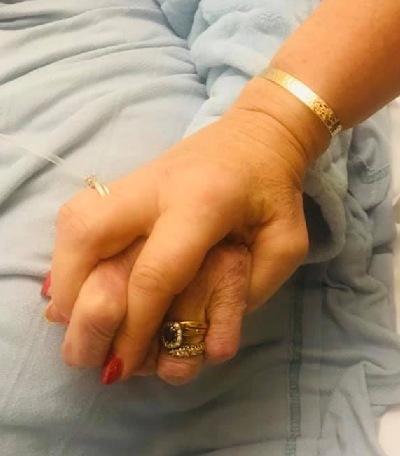 Catherine Smith has allowed me to share this beautiful photo, which she posted when her mother, Audrey Wildblood, passed away in December 2019. More on the funeral, etc., is given under News.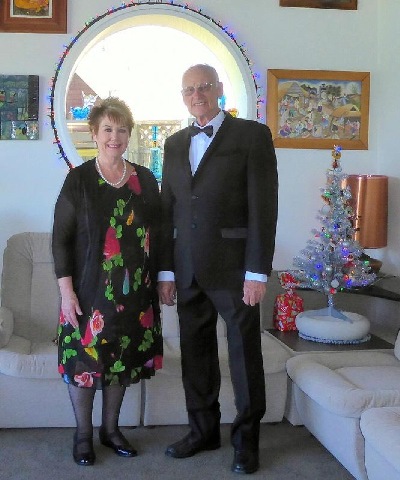 It's Christmas in New Zealand, 2018, with festively attired Doug and Rosemary Wildblood.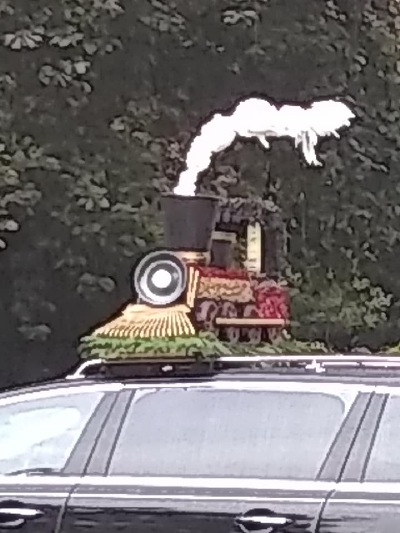 Fittingly adorned hearse bearing the remains of steam train enthusiast Ian William Wildblood 1946-2019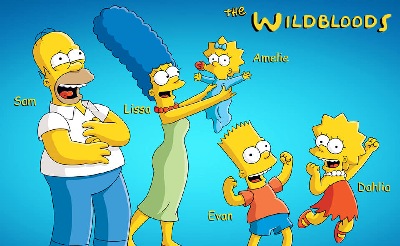 This cartoon accompanied a birth announcement for Amelie Ellen Wildblood in July 2019. No, these figures are not from Springfield. Sam and Amelie are from Shropshire, Dahlia and Evan from Lancashire, and Lissa from Kent. "Amelie" is a unique name in Wildblood annals. Incidentally, Sam's first cousin, three times removed, family historian Barbara Davies, married a SIMPSON from Lincolnshire.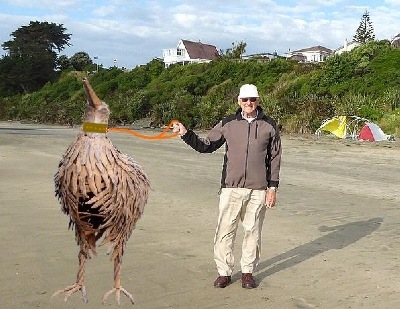 Kiwi Doug Wildblood is walking his rare pet around Porirua in December 2018. We don't know if the native bird he collared is a wildblood or a thoroughbred.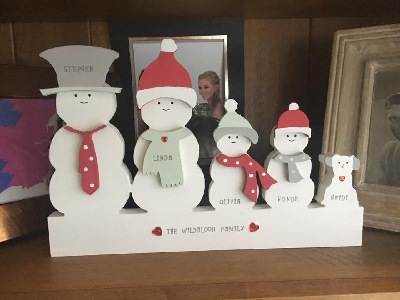 Father, mother, two daughters and pet you see, all of Rochdale pedigree, depicted in red, white and gray during the Christmas season back in 2017.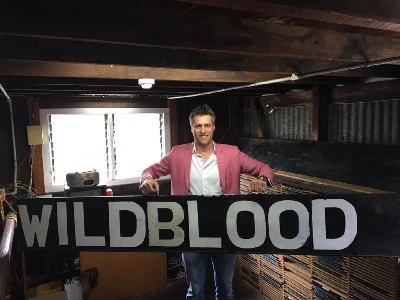 Andrew Wildblood has arranged the letters of the heritage-listed scoreboard at the Adelaide Oval to spell out a sporty name. In case you are wondering, this is the globetrotting Telstra executive Andrew, not his equally prominent international cricket promoter namesake.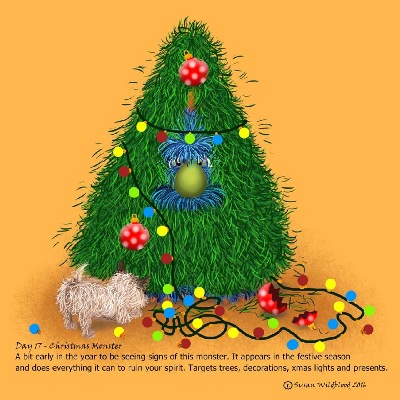 To wish you a monstrous holiday in 2017 we display this Christmas Monster, the creature of Susan Wildblood of Paraparaumu. The South Island native has written, illustrated and published a 50-page book, Living With Monsters, for children 7-14. Susan and husband Mike's own two children have already grown out of this aggravating life stage.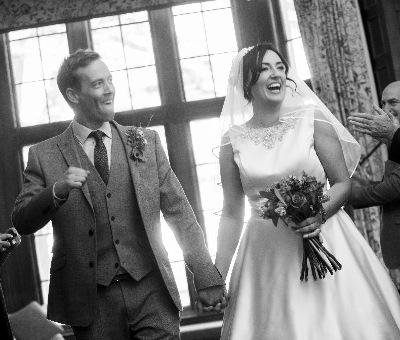 Dean Wildblood & Sarah Evans run the gauntlet of jubilant, admiring wedding guests after signing the papers at a Derbyshire venue in November 2016. There is space available in this column when Dean provides more details.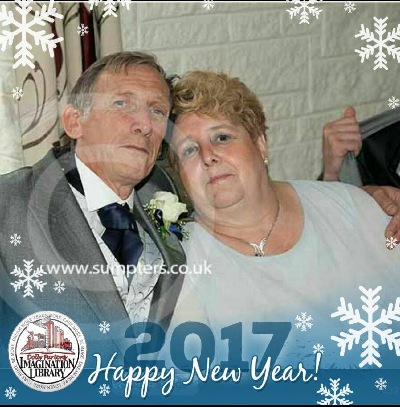 USHERING IN THE NEW are Robert A. and Amanda J. Wildblood of Dudley. This glamour shot was apparently taken at the Derbyshire wedding of their son, Anthony J. Wildblood, to Tammy Coles in 2016. This trio is also know as Rob, Mandy and Ant. Rob's sister in New Zealand said he was "scrubbed up well," and that obviously holds true for the mother of the groom.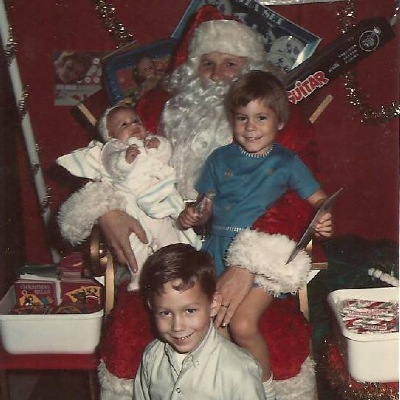 Christmas Smiles Fifty Years Ago

The tots are all Delaware-born, New York-raised Wildbloods: Steve on the floor, Jeannie on the lap, and Kathy in Santa's arms. We thank their recently deceased mother, Jersey-born JoAnn, for encouraging us to deck our website this year with the 1966 photograph. The children and their father now, December 2016, live in North Carolina and Florida.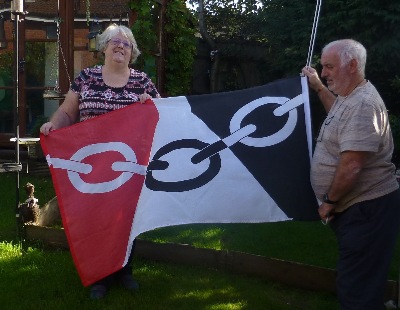 Black Country flag displayed by Carol and Bob Greenaway in back of their home in Brierley Hill, West Midlands. Carol is a former Miss Wildblood. More on Carol's Wildblood relatives has recently been added to three other pages on this site.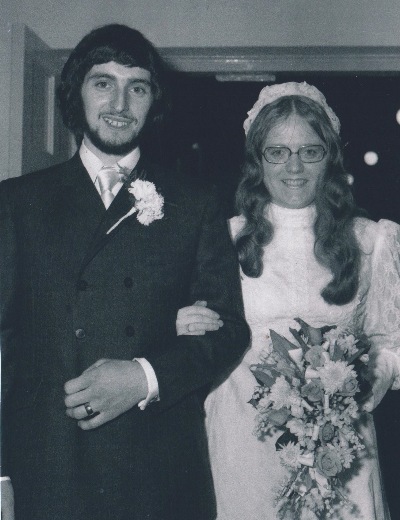 The Black Country couple, a bass and Wolverhampton dancer, on the day of their chaining in Dudley in 1972. The happy couple welcomed their sixth grandchild during October 2016.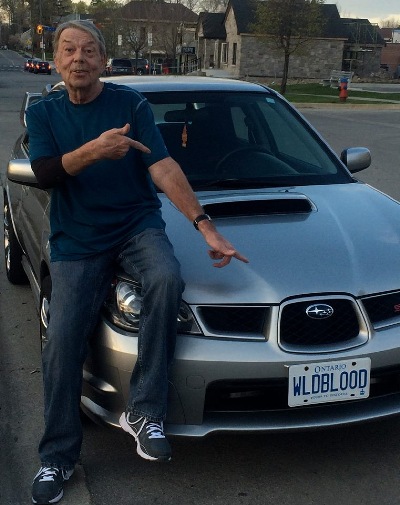 Andrew B. Wildblood is obviously proud of his spring 2016 vanity license plates. Andy wants to spread the Wildblood name in the driving world. He surely had little competition for the letters he chose since he is believed to be the only Wildblood in Canada currently. The new tags make Andy's 10-year-old Subaru Impreza WRX STI stand out in a crowd. Andy's girlfriend is endowed so far with a somewhat less startling surname. She drives a Chevrolet Malibu. We have not seen Ms. Jackson's plates, but the woman herself is revealed to be of eye-catching beauty.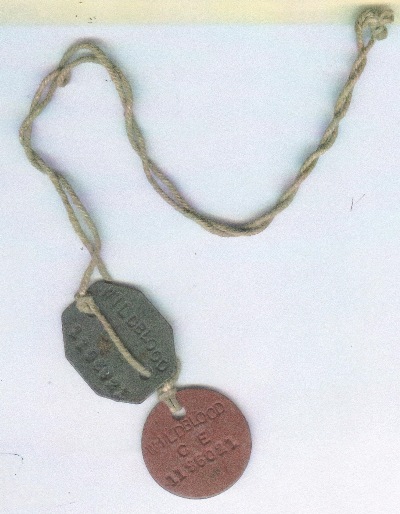 Dog tags carried by Royal Air Force crew member Edward David Wildblood during his World War II Service. The tags give Ted's serial number and indicate that his religious denomination was Church of England. This Image was contributed by Ted's son and daughter-in-law, David and Angela, now living in Portugal. More on the RAF member can be found under News (2015) and Faded Papers.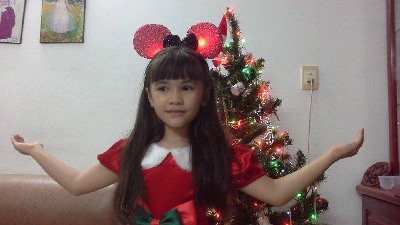 ANOTHER WRITER IN THE FAMILY

The note below was written in 2015 by a girl who was going on eight. She is the daughter of Lan Mai and Mark Wildblood in Vietnam. Her "British-born Kiwi" dad has lived in the Southeast Asia country since 1991. He recently founded MWP Promotions to continue his career in performing and organizing concerts. The author of the letter to Santa is shown above one Christmas earlier. Since then she has visited her Wildblood grandparents in New Zealand. Breaking news has it that mermaid Michelle no longer believes in reindeer.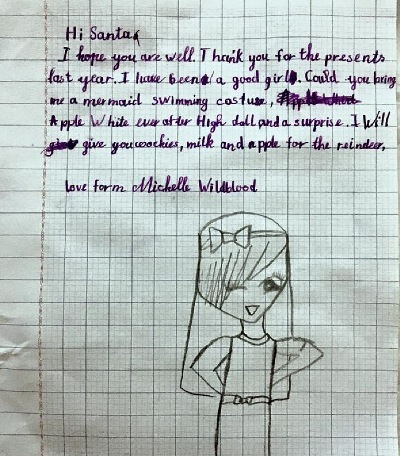 CEDRIC IS HEDGING HIS BEDS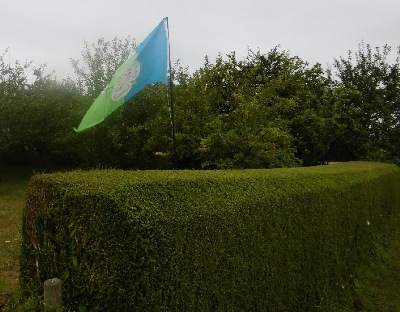 The Berlin Wildbloods visited the Brittany Wildbloods, M. Cedric and Mme. Joyce, at their flagged and hedged belle maison in walking distance to the Pouldu beach. Cedric, although christened at Versailles, and Joyce were among the first ex-British Wildbloods we met, in summer 1997 at their previous hospitality location on the French peninsula. Gwennroz, named for Cedric's White Rose heritage, offers chambres d'hotes and gites from April to September. (Story continued under News/July 18, 2015)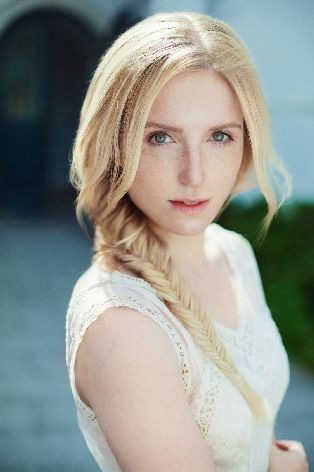 A June 2015 expert shot of New York University graduate student Wenonah Wildblood taken by a professional, Tabita Cargel. The model gets most of her good looks from Maria Stempak, her freckles from Alan Wildblood and flawless makeup and endearing hair styling from Elena Thul.

RED BARON IN OUR DECORATED RANKS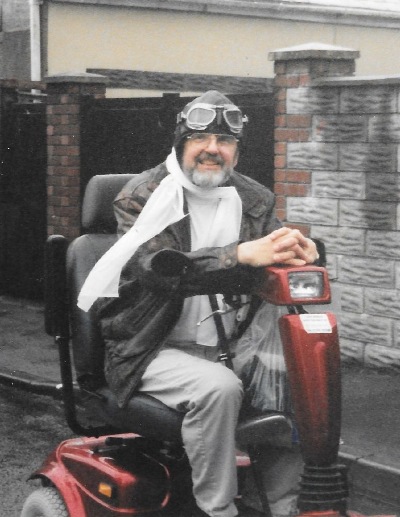 Ringing in the new 2015 is undaunted military historian Stephen Wildblood, claiming to be the Red Baron reincarnated. Stephan von Wildblut knew some German, too, although he started school in France, studied in England, worked in Switzerland and explored caves in Wales. Stephen passed away in May 2015. More on our News page.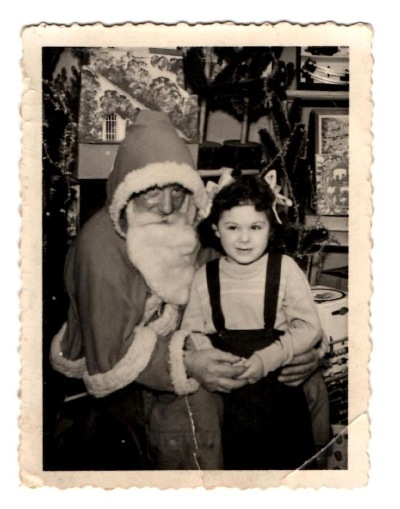 Adorable little Norma Wildblood is preparing for a 1954 North Staffordshire Christmas. You don't have to think twice to guess that she had been nice, not naughty, and we can be certain that Santa did not carry coal to her Newcastle (under Lyme). Norma, who now lives in Newport, South Wales, brought good cheer to this website by contributing the vintage photo. Or was it 1953? Scroll down to see an Easter photo of Norma and her dad from the same era. Do any Wildbloods or Whilebloods out there have a holiday photo to use in this space next year? If not, you will be stuck with another one of boring old me, Alan, on Santa's knee.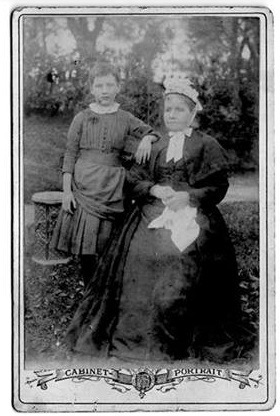 We see Ann Wildblood née Vernon (1814 or 1815-1892) with daughter Betsy Vernon Wildblood (1856-1929). Betsy married Herbert Wetton in 1874 in Fenton. This Wetton family is seen on the Photos page of this site. Two of her brothers emigrated to Canada and started the "Vernon Wildblood" tradition in Ontario and California.

The picture was handed down to Jean Goldstraw, whom we thank for permission to use it on the family website. Jean, a great-granddaughter of Betsy, was born in Penkridge, a place dear to all Wildblood historians, where Thomas Wildblood was christened in 1727. Virtually all Staffordshire-rooted Wildbloods living today trace their ancestry to him and not much farther back.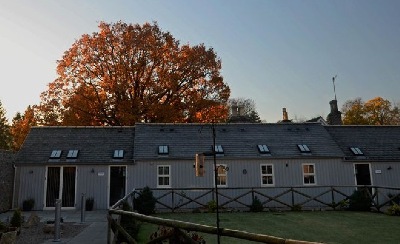 Taking down our 2013 holiday decorations, we display a year-round holiday opportunity in Scotland, owned and operated by Lorraine and Patrick Wildblood. They warmly welcome all members of the worldwide clan to the latest Wildblood-run home away from home. The feeder in the foreground is a preferred stop for a pair of collared doves. Read more about it under News or visit the Glenernan Cottage website.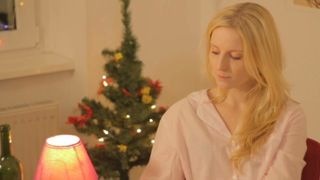 In this 2013 season to be jolly we present our Wenonah as she appears in a short film entitled "Joyful Nights." This Miss Wildblood is an actress and singer based in Berlin and an offspring of the website author. We try to have a different holiday picture each December on this home page and request images from all celebrating Wildbloods and Whilebloods. Pictures of yore and/or of Yorkshire. We have a vintage Father Christmas from Staffordshire lined up for December 2014. If you would like to see Wenonah taking two minutes and four seconds to unwrap a present, just go to this star shooting. It is in English and very nice, but it has an utterance that was naughty in Christmases past. Don't say I didn't warn you.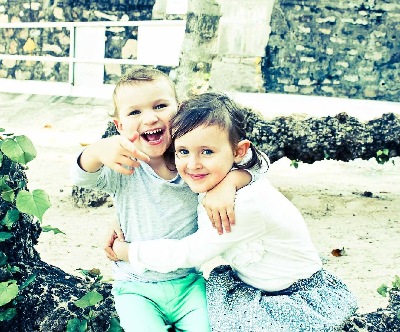 Australian-born Poppy Wildblood, five in July 2012, and brother Joey Wildblood, who entered the world in England and is three in January 2013, currently live in Stanley, Hong Kong. Their mother Elisha gave birth to a third child, Freddie James Wildblood, in Hong Kong in March 2013. Yorkshire-born father Andrew is head of Telstra's Asian operations.

The massive continent has seen quite a few Wildbloods in recent months and years. Mark is in Vietnam, Mike in Indonesia, William John ran a guest house in South India, his brother promoted cricket there and in Pakistan, and others have visited Cambodia, China and Mongolia for business and pleasure in the recent past.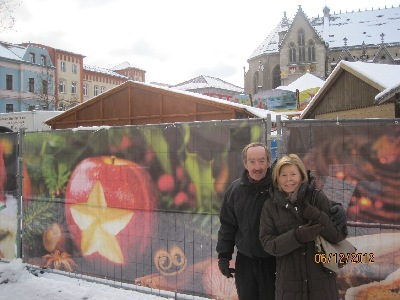 Maria and Alan Wildblood in Berlin wish all readers merry holidays and a good start in the coming year.

This wintry scene is from the Christmas market in Meiningen, Thuringia.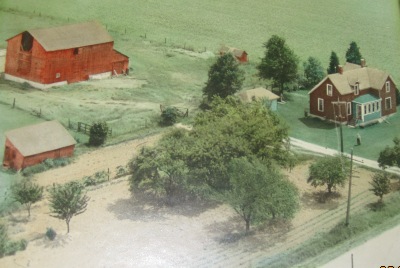 second wife, née Lillian Bergetta Scott (1892-1958), located in Northwood, Ontario. John, standing on the front lawn, was the son of an immigrant from Staffordshire. Lil, in the shade at the left rear corner of the house, was from Prince Edward Island. The aerial view passed down from John's son Clifford to genealogist granddaughter Sharlie Stubbs.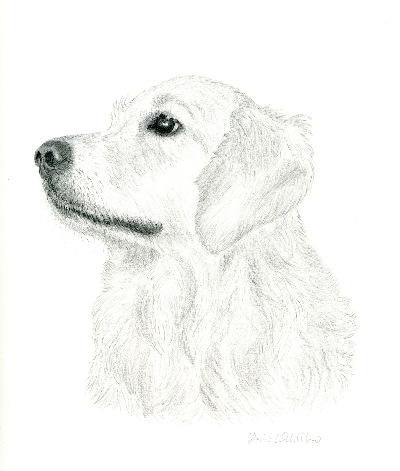 One clansman who offered feedback to the 2010 family newsletter was David Wildblood in North Wales. When approached in a follow-up, Dave kindly permitted us to show his drawing of golden retriever Fflur, who is a client at Dave's business, Berties Petcare Services in Rhes-y-cae, Holywell, Clwyd. David and his wife, the former Susan Cartlidge, relocated to the rural community in the Halkyn Mountain area from Alsager, Cheshire. The couple used to play in a folk music band. The pet portrayer is seen below when he worked for Celestica, an electronics contract manufacturer in Kidsgrove, Stoke-on-Trent.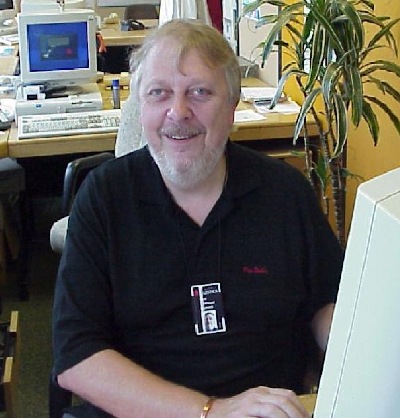 Dave joins several Wildblood artists known to the website author. Like the dog depictor, the late Denzil Wildblood of Wales and Western Australia, focused on pets, in his case, his budgies. Dave calls the work of Darryl David (DD) Wildblood, who is seen "a few doors" below, "striking and original." Currently painting is Rita Wildblood in York. Another Yorkshire painter was Hubert Jack Wildblood 1904-1982, whose "Kirkstall Abbey" was recently offered at auction.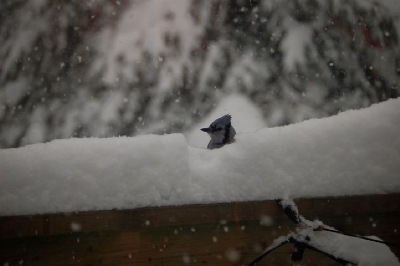 Andy in Ontario promptly furnished a chilling study of bluejay to update his seasonal series of ornithological perspectives. Even if this winter is severe out your way, we hope you will be better sheltered next to a fire or under down than this lightly feathered model. P.S. Andy didn't freeze. He captured the prey through the window of a friend.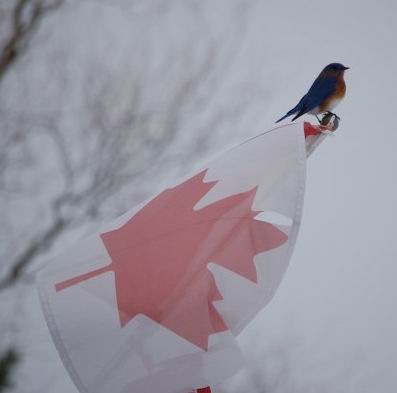 To mark spring 2010's debut and acknowledge our indebtedness to Canada for making a cold winter bearable with a successful Olympics, we present a harbinger on a maple leaf. The photo was made by Rochdale nestling Andrew B. Wildblood, who has perched in Hamilton, Ontario, for most of the past two decades. Andy has worked as a mechanical fitter. His employer, AVL Manufacturing, assigned him to Alberta oilfields for a while. The single Canadian is the son of the late Jeffrey George Wildblood, and Audrey, who remains in Rochdale.
Andy spends some of his spare time capturing feathered fellows on film. Several Wildbloods are great nature photographers. On the Internet you can find wonderful shots by Gill Wildblood in the Orkneys, Chris Wildblood, a full professional, in Namibia, and migratory Margie Wildblood, to cite three of the most prominent.
Wildbloods from Britain and Ireland have gone to Canada to live for well over a century. If it weren't for the call of America's far north, there would be no Nevada or California kin. Mention is made on this site of colonies in British Columbia and Ontario, as well as folk in Manitoba and a death in Montreal. First Nations' Bill Peacock used "Elmer Wildblood" as his pen name. Andy is now one of two "listed" Canadian Wildbloods, but the name has blazed a trail from the Maritimes to the offshore Pacific. Lillian Scott Wildblood was buried on Prince Edward Island. Author Peter Wildeblood died on Vancouver Island.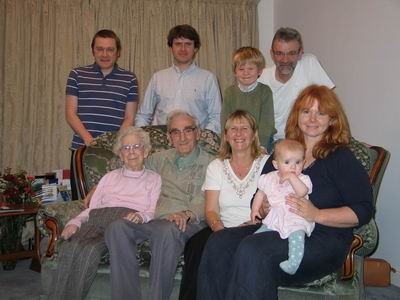 Four generations are pleased for you to meet them. It is an all-smile affair except for the baby, who seems to beWILDered by the global attention. The oldest and youngest are seated, in case you can't tell. From left Kay née Parker and her husband of 62 years, Edward David Wildblood, who is from a Shropshire family. Kay was bred in Yorkshire, while Edward is the brother of the recently deceased Alan James Wildblood (see "News"). Their son David is at the top right. His wife of almost 40 years, although she doesn't look it, is the beaming blonde, Angela, whom we thank for submitting the recent photo. The sons of Angela and David are Darryl, top left, and Andrew, the other young man. Andrew's wife is the redhead, Lorna. The son of Andrew and Lorna is Charlie, the fourth little man in the top row. The youngest of the family is Elizabeth, born in June 2009. The most senior generation lives in the Bristol area, but the others are based in Yorkshire. David is a landscaper, Darryl a high-profile and very creative artist, Andrew a gamekeeper, and Elizabeth, for the time being, a doll.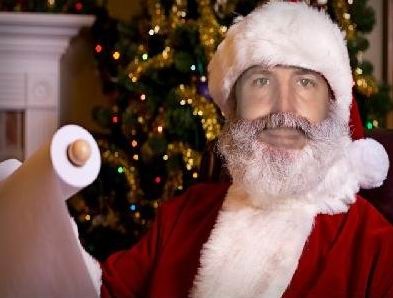 Father Christmas or Santa Claus? One thing is for sure: this distinguished character has numerous close and distant relatives named Wildblood. His far-flung gift to his worldwide kin for our December 2009 celebration is permission to deck our family website with his twinkling presence. The jolly old gentlemen is going to find out who's naughty and nice and reward us accordingly. Will it be diamonds, stuffed stockings, candy canes and sugar plums, or Midlands coal and brett and water? We three kiddies in the land of the Weihnachtsmann join him in wishing readers in all four hemispheres the merriest of seasons. Since it is blessed to give and receive, we put at the top of our wish list for 2010 your submission of more Christmas photos of Wildbloods and Whilebloods for similar decorations in the coming years.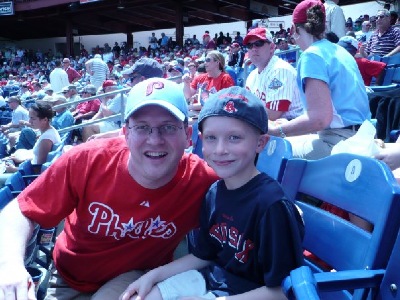 Seasons come and seasons go and here we see Ronald James Wildblood, Jr. and his son Jacob Wildblood at 2009 spring training in Clearwater, Florida. Although Ron has lived up and down the eastern seaboard, now stepping up to the plate in Georgia, his New Jersey and Delaware roots incline him toward the Philadelphia Phillies. Jake plays baseball for the Red Sox, not quite in the Major Leagues yet, and his maternal grandfather lives in Massachusetts, so the eight-year-old lad is rooting for the Boston team, which won that day. The frustrated Phillies fan is from one of the two Trenton Wildblood families.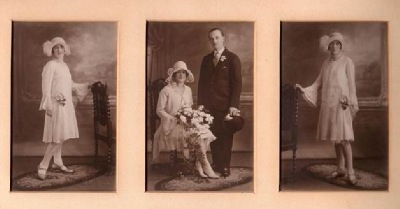 Time to Take Down the Tree and Get Out the Rice. At Valentine's 2009 we relive a 1928 Liverpool love story. The bride is Elsie Wildblood, the groom Robert Curig Lobley. The maids awaiting are (left) sister Agnes Wildblood, who wed Arthur Jones a decade later. On the right sister Martha, who must have caught the bouquet, because she marched to the altar just four years later.The pictures were gratefully received from Elsie's daughter, Vera Hickey, and her daughter, Paula Taylor. For more on Martha, go to Photos.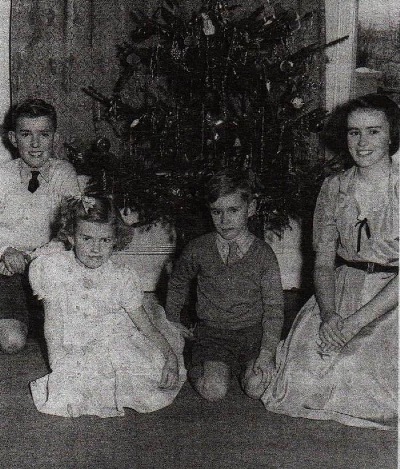 CHRISTMAS
OF YORE
IN HORNSEA
ABOUT
55 YEARS AGO
From left
Ben 1946-2002
Sarah
Tim 1941-1965
Jen
The Cliff Road kids
are the darlings
of John Roland
and Kathleen.
These Wildbloods
moved to Leeds
after a few years,
then to Haxby.
The surviving sisters
now deck the halls
north of York
after greeting
Petit Papa
for a few Noels
under an arbre
in Lot-et-Garonne
far away from
this Christmas past.

BRISTOL STOMP VINTAGE 1934 PERFORMED BY GORDON AND JAMIE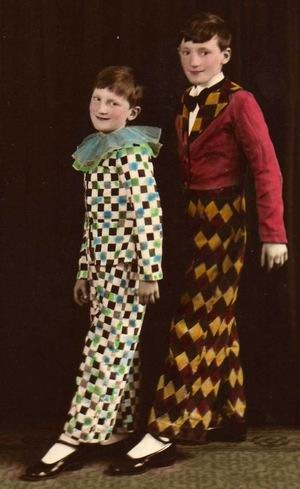 These good eggs entertaining parents and peers back at Easter 1934 are Gordon (left) and Jamie Wildblood, sons of James Henry Wildblood (1876-1957) and his second wife, Rosina Howell. The dancer's father moved from northern Shropshire in World War II to work in Bristol shipyards. He had a total of eight children, and Rosina helped raise Jamie's late daughter Valerie (1943-1965), the victim of an automobile accident. Gordon and Jamie danced for a decade in a wide variety of costumes. The two boys shown here, now octogenarians, remain the best of friends after decades of work, military service at Osnabrück in Germany and Mestre outside Venice, Italy, and through a lot of thin along with the thick. Your can read more on Jamie today on the News page of this website. Below the performing pair hs donned a more grown-up get-up.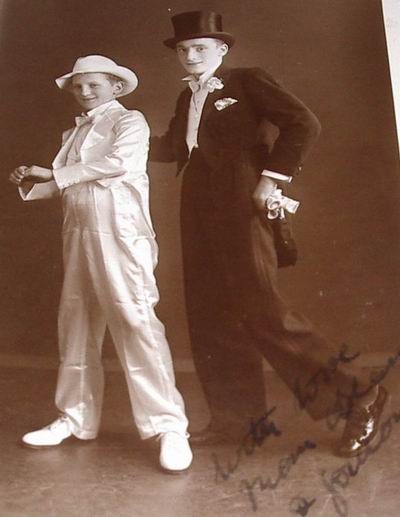 The reason the lads appear to be a bit bottom heavy is that this image was captured by a digital camera at an angle designed to avoid a flash reflection.

Where There's Smoke, There's California-Fried Chicken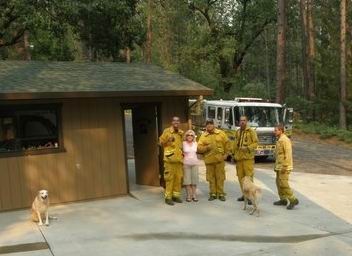 Ventura County fire crew at home of Virginia and Steve Wildblood in June 2008. That's Virginia in pink. She is average height so the firemen must be knee high to the redwoods. The blazetrailers took a few minutes out for some refreshment and play with the Wildblood retrievers during their bout with the Concow Fires. Virginia said of the crews: "We have friends, God love them."

Growing Into a Name in Munich. Bavaria's Capital Is Her Stage.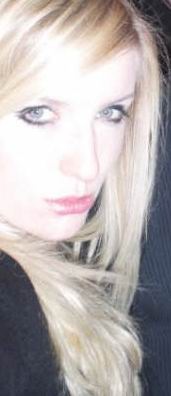 As February 2008 began, Wenonah Wildblood was completing her first semester at the Bavarian Musical Theater Academy. She was accepted to the elite school following an audition in March 2007 on her first try, the youngest and gungest in her class. Wenonah finished secondary school in her native Berlin and has Polish and 60-miles-off- Broadway roots. Her curriculum includes ballet, jazz dance, acting and singing. The talented performer previously had major roles in "Fame" and "Jekyll and Hyde" at her high school and took the scrumptious part of Audrey in "Little Shop of Horrors" at Kap Arkona underneath a Baltic lighthouse in 2007 summer stock. First-year students are not permitted to audition for remunerative extracurricular performances, but she will be showcased with her class of 12 in a student-written musical in April 2008. Wenonah has known what to become when she grows up since she saw "West Side Story" in Berlin before she entered kindergarten. The 20-year-old student believes her front-and-center surname helped her stand out in the crowd of admissions candidates. One of her instructors says the blonde belter needs to keep honing her skills to put on a show that can match her name to fame. The extra-special ex-Berliner is not the first Wildblood to study in the Löwenbräu's lair. Richard Garside Wildblood from Yorkshire was enrolled at Munich University in 1937-38. His knowledge of reichtime German was an asset in the Allied war effort.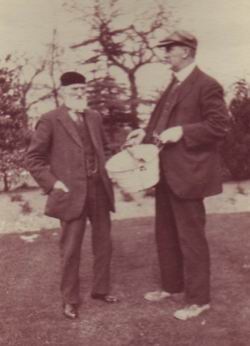 1922 Jam Session Rings in 2008. Goateed Joseph Wildblood 1840-1926, one of many Burslem-born members of our breed, with son, Charles Stanton Wildblood, partner in Canning & Wildblood, fruit preservers, pose with a bucket for an unpreserved reason. Let's imagine the vessel was for the jam the family business produced for decades, starting in Balsall Heath, Kings Norton, Worcestershire, which is all West Midlands today. Twenty-first century rocket-wielding January 1 revelers may find it hard to believe, but their elders rang in the new by banging spoons and ladles on pots and pans. The May 1922 garden photo session was at Sevenoaks, the family mansion in the Midlands map-jam. Old telephone directories suggest the address may have been 42 Handsworth Wood Road. By 1922 Joseph, who started as a haberdasher and commercial traveler, had been predeceased by wife Annie, née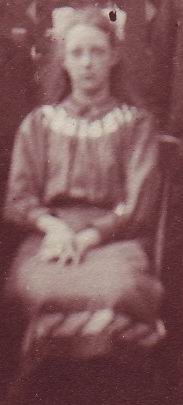 Stanton, probably the only Wildblood ever born in (British) Honduras. Charles the jam maker married Martha Dalton of Tamworth at Egbaston in 1895. The first fruit of their union was Marjorie Stanton Wildblood (seen on the left at an "in-law" residence in Penarth, Glamgoran, in about 1911); the second child, short-lived Hilda Dalton Wildblood; and another was nurse Norah Howard Wildblood. Norah, born in 1899, never married, but the lovely lady in uniform depicted below is sadly no longer available. You know where the Stanton and Dalton middle names were from already. To explain the Howard, we have to climb the maternal tree a bit higher. Martha Dalton's grandmother was Martha Howard. Perhaps it was to avoid confusion that Mrs. Charles Wildblood was known as Pattie, to the extent that the diminutive was mentioned in her marriage announcement. "Howard" as a first and middle name continued for several generations in the Dalton and Taylor families. Yes. Taylor. We are indebted to Jonathan Taylor in Lincoln for scanning and sharing these images. His grandfather, Howard Dalton Taylor (1897-1989) was a traveling salesman for Canning & Wildblood.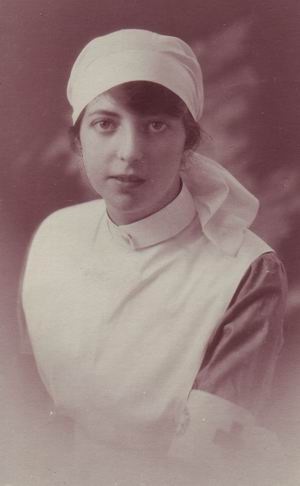 We met Jonathan through Ancestry.com in December 2007. Jonathan is Norah's first cousin, twice removed. From Penarth to Lincoln, these families got around. Charles Stanton Wildblood was involved in a fruit growing enterprise in Scotland until 1930. The Times curiously called the location "Perth, North Britain." In 1913, date of the earliest know press coverage of the Birmingham breakfast partnership, C. S. testified in a dilution trial at Marlebone on the virtues of adding apple juice to raspberry jam. Charles had the means to treat himself to a Canaries cruise in the hard times of 1946. However, Canning & Wildblood, which also dealt in textiles, became unprofitable about 1970 and was devoured by a tamer label.

The 30 A3-sheet trees in the diagram below cover most of the UK Wildbood families of the 19th and 20th centuries. The trees were painstakingly compiled and drawn by Harry Charie over a 20-year period and are slowly being computerized by his designated successor. A bigger and better copy of this outline will be emailed to anyone requesting it. The names Harry gave to the pages are POTTERS, WILD(E)BLOOD, EDMUND, MINERS, HUMBERSIDE, LEEDS, TRIPLETS, STONE, RAILWAY, SHEFFIELD, WEST DERBY LANCS, DURHAM, BOATMEN, CHESHIRE, BARNSLEY, WEST MIDLANDS, WORKHOUSE, SHROPSHIRE, NEWPORT & MANCHESTER, SHREWSBURY, WALES, BRISTOL, ROCHDALE. TRIPLETS could also be called RHEAD, and those unnamed my their author might be dubbed MALKIN, HARRISON, BOWERS, PLANT, ARCHER, FRYER, referring to the maiden name of the marriage at the top of the chart.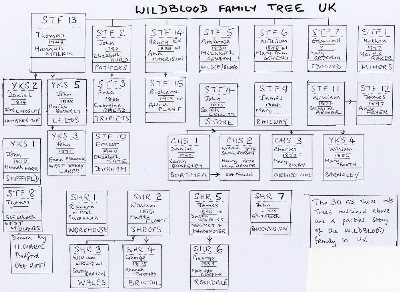 Slightly Abridged Excerpts From Diary of Blitz Baby Freda Wildblood

1951. (Niece) Wendy (Hirst) was 12 months now, it seemed very funny having a baby in the house, because up until now I'd been the only child.

(Sister) Joyce and (brother-in-law) Alf bought a great big Silver Cross pram for Wendy. I couldn't see over the top of it. The pram was a beautiful thing, but it was the last thing in the kitchen at night and the first thing out of the kitchen in the morning, because you couldn't move for it.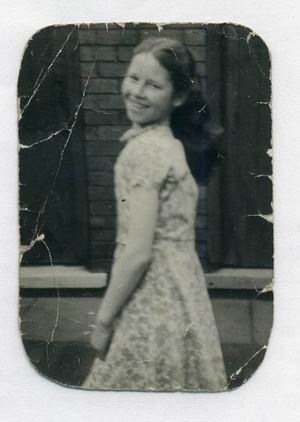 At Easter time that year I was having problems with my eyesight. My mother Mary Josephine took me to the opticians on Sheffield Road to see a Mrs. Mildred Atkinson. After testing my eyes she said that I would need glasses all the time, because I was shortsighted. This didn't go down very well because I was always fighting and I was backwards and forwards every week for the glasses straightening or because they were broken. I kept throwing them in a drawer or losing them outside, anything so I wouldn't have to wear them. (To the left Freda poses with her spectacles in her hands before their welcome wore out. You can make them out if your eyes are better than hers.)

1951 seemed to go fast and in July all I could think of was the six weeks holidays to look forward to. All the street kids went on long walks for the day, even the toddlers and dogs, or we would stay in the street and play games. What long and idle days they were.

The best walks we went were to Lock Park on Park Road, Barnsley. We followed the path round and it brought you to the playing area. There were see-saws, sand pit, slide and a swagger. Oh, that swagger!!! Only the bravado would go on that when the older kids got on it. I once did get on, but I soon fell off. Never again!

The October break we called potato picking week and this was my first time to go. Off the street mob went, with their zinc buckets, bottles of water and some bread and jam. I don't know what time we set off. I only know that it was dark.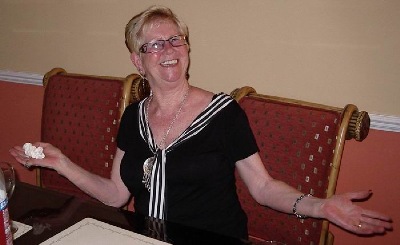 ALL GROWN UP! Freda Stenton, spectacular in spectacles, reigns over a Chinese takeaway party at the home of niece Wendy Dodson in Wakefield on August 30, 2008. Freda granted an audience to Alan Lee and Maria Wildblood of Berlin. Genealogist Alan Dodson, who married "the baby in the house," arranged the meeting, but took a back seat, along with Freda's husband, Tony Stenton.


A Stiff Collar in a Softspoken Pose

It
was
summer
1916


when
this
all-Wildblood
family
posed


at
the manse
in
Grimsby,


then
in
Lincolnshire.
Bottom from left Rev. Charles Bowers Wildblood, his mum, Marion née Bowers, and his brother, William Arthur, killed a year later near Ypres by long-range German artillery. Standing the preacher's wife, Margaret née Morgan, and his dad, Charles. The clergyman's grandson, Stephen Charles, found the picture in three pieces, put it back together and submitted it to this site.

January 2007. DNA Study organized by Susan C. Metates in the United States needs the contribution of a Wildblood male with Astbury, Cheshire, roots. If your lineage fits and is bonafide legitimate for numerous generations, contact John of Alsager, found on the Background page, to volunteer and arrange for a simple procedure to obtain three samples from your oral cavity.

NOW WE ARE RUSHING EASTER with the spring of a maiden's youth.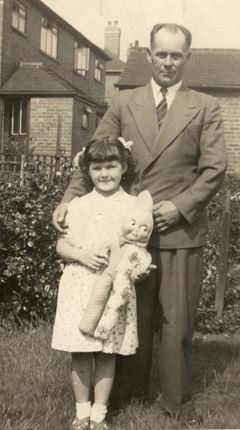 After a photograph from Dixie, one from the North and one the South Island of New Zealand, we finally featured an English scene as the leading illustration in the early 2007 fourth edition of the worldwide Wildblood site. One hated to take down Margie's wreath, below, but the young girl on the left is equally decorative. She is Norma Wildblood, featured as an adult on our News page. Norma is unable to recall the doll's name, but she has not forgotten it was a present from her great aunt and godmother, Alice Lindop. Admiring her Shirley Temple look, we can understand why Norma distanced herself from her maiden name. The picture was taken in her garden in Newcastle-under-Lyme. The bloom's proud father is Norman William Wildblood. He was a carpenter and was employed in the construction of new houses, offices and roads. The photo was taken in the early 1950s. To see what this little walking, talking, living doll is up to know, go to News, where you can also catch a glimpse of her slightly younger dad in uniform.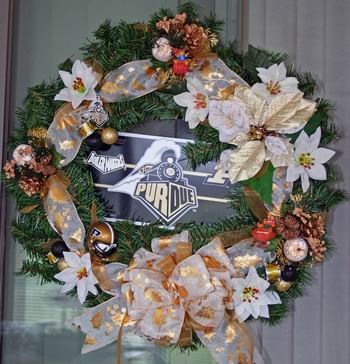 Our 2006 season's greeting is the artwork of Margie Wildblood in Kokomo, Indiana. This is her Boilermaker Wreath. Margie and husband, another crafty character, New Jersey native Dr. Bob, studied psychology at Purdue. They are now associated with the University of Indiana, and Margie's Hoosier Wreath will adorn the 2006 Wildblood newsletter. Margie was initially Bob's student at Radford University in Virginia. If anyone else has decked with holly, a Christmas photograph for 2007 would be appreciated.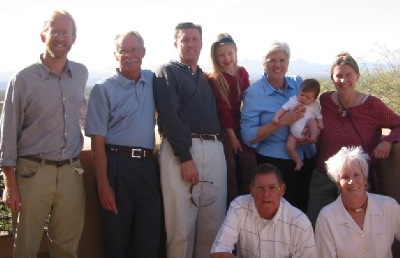 Nine lives, no cats, but a baseball-team-size roster of Wildbloods, and two Crawfords to boot, believe it or not. In this beginning-to-look-a-lot-like-last-Christmas shot, we count, clockwise from top left, Bruce, Lynn, Chris, Hanna, Diane, Jessie, Megan, Nancy and Jim. Megan says she never saw that many Wildbloods before. Who can submit a larger, football-size squad and claim top billing on this page of the international family album?

This site is dedicated to linking and publicizing Wildbloods worldwide. Any Wildblood who wants to claim fame or notoriety via this medium is welcome to send me his or her photo to my address at the top of this page. You can splatter me with your private or business links, your news and boos, praise, yeahs and nays. Boasting an E in conduct and an A in yellow journalism, the compiler is trying to make this publication fittingly ferocious as well as informative and begs you to yell, howl or bark if the literary animal steps on any paws or pounces on tender toes.

Established 2001. Last updated March 30, 2023. Number of visits below.