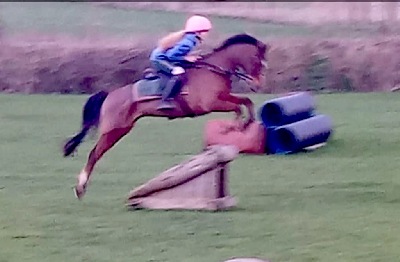 Bess Wildblood, now 13, on Merlin, actually a Welsh pony, warming up for a rained-out competition in 2023. The same tandem can also be seen on this site's homepage by scrolling down to 2021.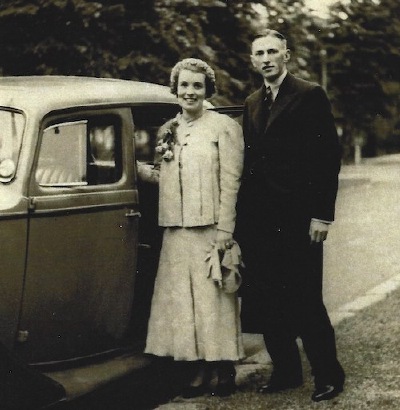 North Yorkshire meatseller John Roland Wildblood (1910-1978) and his wife, née Kathleen Arnott (1912-1996). She was from Harrogate, where they married in 1937.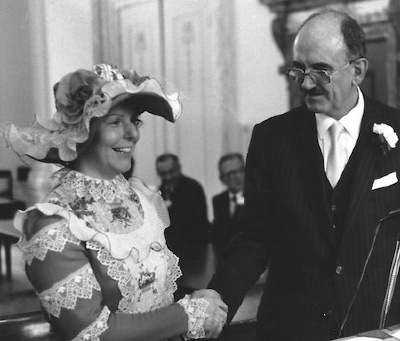 Charles Wildblood (1919-2003) marries Tina née Van Weesep near Amsterdam in 1979. It was the second marriage for both parties. The picture was furnished by the groom.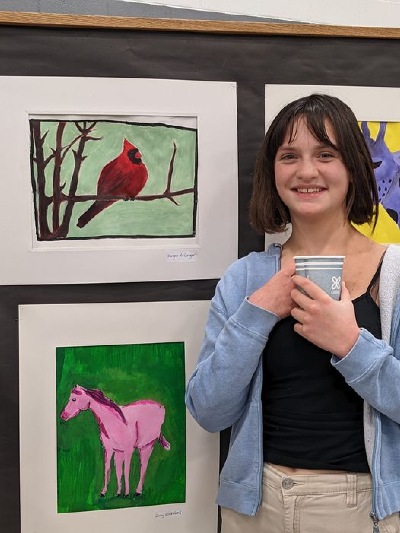 Cardinals are red, ponies are pink, at least in the creative mind of artistic Zoey Wildblood in Nevada. Apparently her creation is a filly.

You can coo Zoey's baby picture by scrolling under News to 2010. It must be nice to have a Z in the family. A New-Zealand-born Zillah now lives in Arizona. The birth of a Zoe Wildblood was registered in Grimsby in 1975. Zona Wildblood was born in Stafford in in 1897 and died a Smith in Dorset in 1965.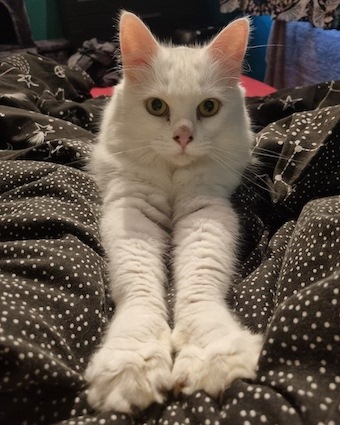 This midweek feline adoptee was officially and felicitously registered as Wednesday Wildblood by Nia, who can be seen under News in December 2019 when she and Lewis Denby adopted each other. Nia dubbed the furry portrait "Paws."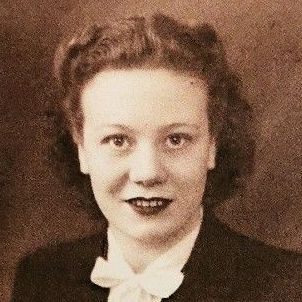 Marjorie Wildblood née Leeming, 91, died January 30, 2022 in Stockport near Manchester. For nearly 40 years she was the widow of North Staffordshire native Albert Wildblood (1925-1982), who worked in oil well engineering. Marjorie had two sons and two daughters, and four grandchildren. The youngest, content editor Sarah Delaurey, until 2021 Miss Wildblood of Kent, scheduled a tandem skydive on June 2, 2022, to raise funds for Alzheimer's Society in honor of a gran who never flew. A 21st century picture of Marjorie with son Peter (1966-2012) and Sarah's father David is shown in our Photos column.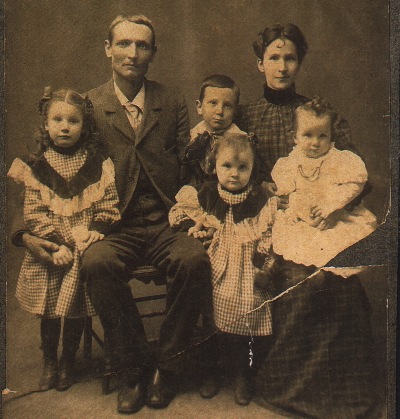 Furnished by the late Ruth Wildblood Martin, seen as a bride lower on this page, this 1900 photo shows William Tillman Wildblood Jr. (1872-1906), son of a Confederate soldier, and his wife née Fannie Estelle Taylor, who then lived in Pointe Coupee Parish. Their children are Eugene Sidney (1878-1931), Alma Estelle (1895-1958), Ada (1897-1943) and Ava May (1899-1953). Eugene Wildblood married Barbara Gross. Alma Wildblood married Theodore Thiel. Ada Wildblood married Louis Mayeux. Ava Wildblood married Harry Sherman Hill. Widow Fannie married Stan Broughton in New Orleans in 1909.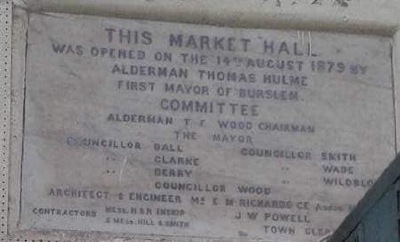 Councillor Wildblood back in 1879 Burslem was Edmund, a color maker. This photo is from a 2021 concillor, Lesley Adams.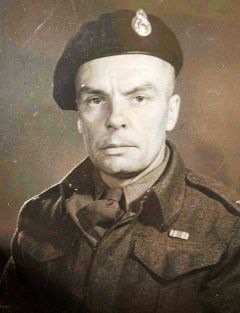 Ernest Wildblood, born at Talke Pits, Audley, Staffordshire, in 1910; died in 1978 in Burnhope, Durham.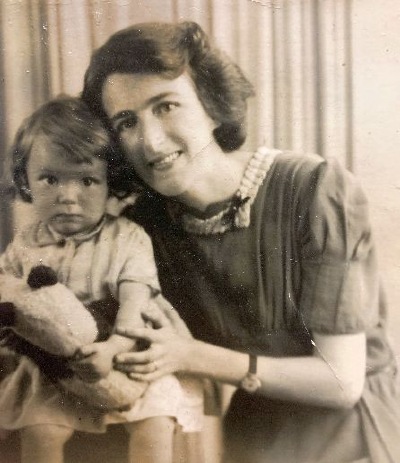 The girl with the panda is Jean Wildblood, born in 1941 in Durham, now Jean Mallaby. Her mother was Elizabeth Ann Tate (1916-1977). Jean's father, Ernest Wildblood (1910-1978). born in Audley, Staffordshire, was his wife's second cousin, once removed. When this picture was obtained in 2021, Jean, turning 80, was hoping to obtain her first look at some pictures of ancestors or their descendants who remained in Staffordshire.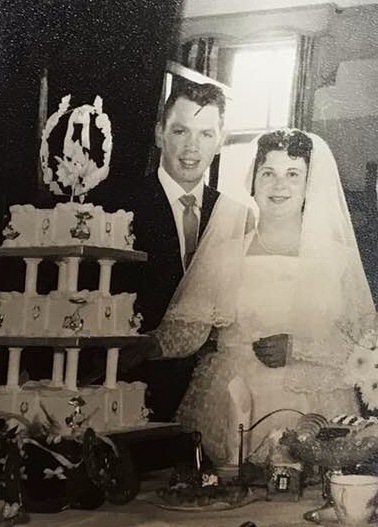 Jean has grown up and is about to cut some cake with Thomas Mallaby in June 1960. The wedding was at Burnside Methodist Chapel.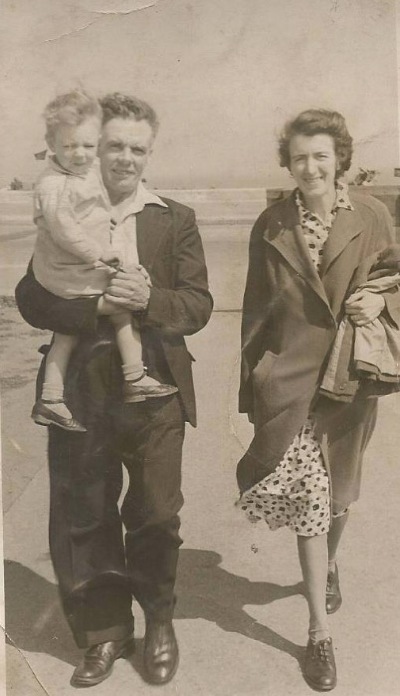 Ernest and Elizabeth Wildblood with son Billy, who is Jean's younger brother. This picture, the one of the cake above, and several others were kindly furnished by Billy's son Marc Wildblood, who was working furiously on family history during 2021.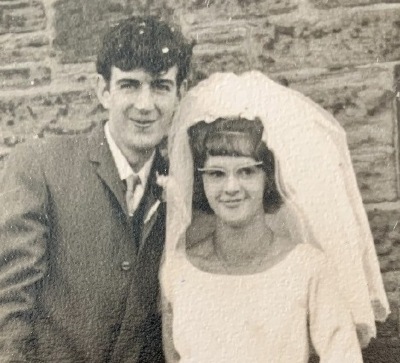 William Wildblood, the toddler in arms above, married June White in 1967. The groom seen here was from Burnhope, Durham. The family later lived in Stanley. These two photos were kindly provided by Jean's grandson, Adam Carrick.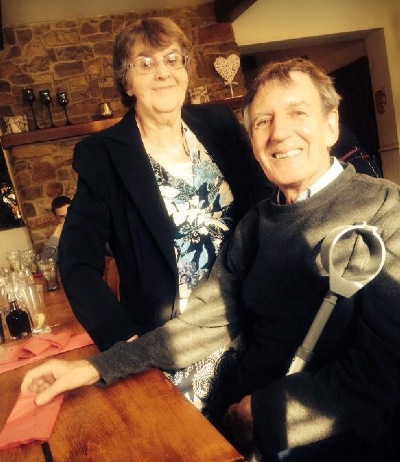 William and June, still together and smiling more broadly than ever, in 2021. Their granddaughter Maia was born in 2021. She made it to the top of our homepage. Thanks again to Marc!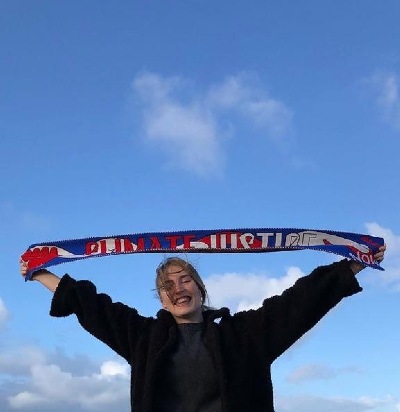 Waving the Climate Justice banner is fundraiser Florence Wildblood, and the prolific young journalist is eminently justified to do so. Flossie regularly publishes articles on environment-friendly business for Maddyness. This 2021 picture is from Instagram, where our high-profile namesake had 932 followers, including the owner of this website. She is from a Leeds and London Wildblood family long prominent in printing, publishing, Methodist and cricket circles.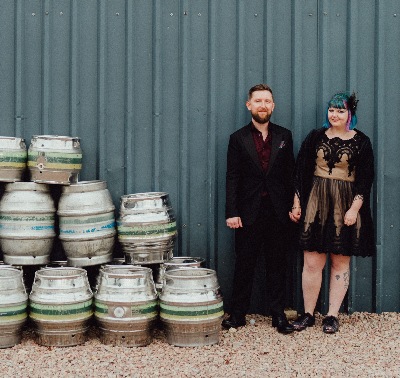 We wish barrels of fun to 2019 newlyweds Lewis Denby and Nia Wildblood.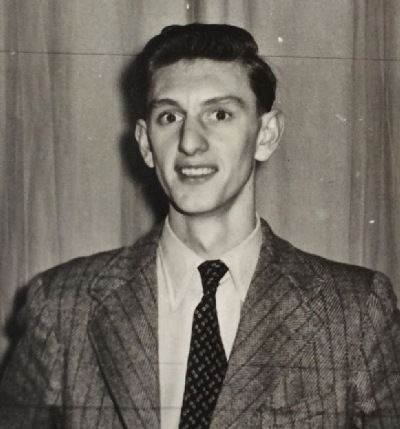 George Donald Wildblood, born in Shropshire in 1937, deceased in Yorkshire in 1967. He was a civil servant at several British military installations.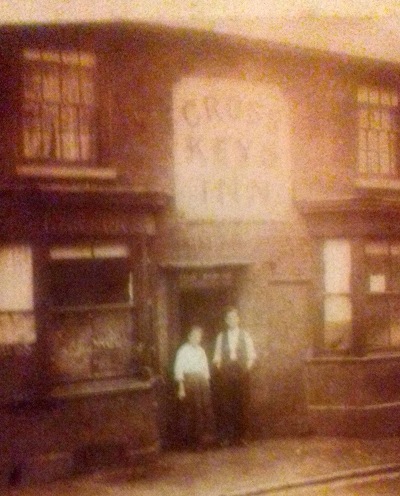 Felix Wildblood (1878-1952) and his wife, née Margaret Lucy Smith (1878-1938), in front of their Cross Keys Inn in Dudley, West Midlands. His great-grandson, Brett Wildblood, has our thanks for submitting this picture. Brett says Margaret was known as Mary to her grandchildren. She was born in Dudley, her husband in Heath Town, Staffordshire, and was descended from a Shropshire Wildblood Family.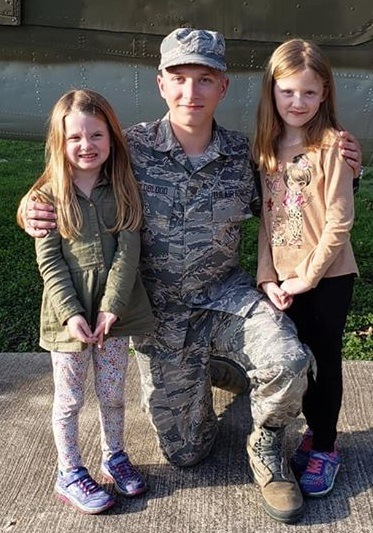 Airman Jacob Wildblood with sisters Leah and Sarah after his basic training graduation at Lackland Air Force Base in December 2019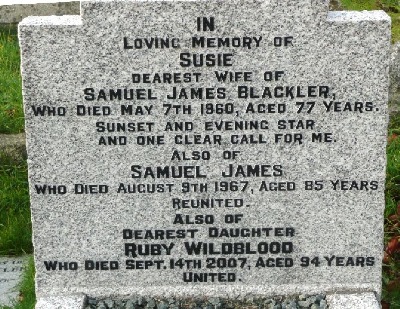 The final resting place in Highweek outside Newton Abbot of globetrotter Ruby and her parents as documented by Tess Walker, who is writing articles on Highweek high Flyers for a local publication. Barbara Ruby Blackler was born in Lawrence, Massachusetts, where her English father worked briefly. Long a spinster, Ruby married widower Walter Gordon Wildblood in September 1974 and was a widow herself three years later. She wrote an autobiography, Around the World in 80 Years. Her stops included a teaching exchange year in Richmond, Indiana. Samuel Blackler named his home back home in Devon "Merrimac" after a New England River. Ruby named hers "Totara" in memory of a stay in New Zealand. "Susie" was Susanna Riddett before her marriage.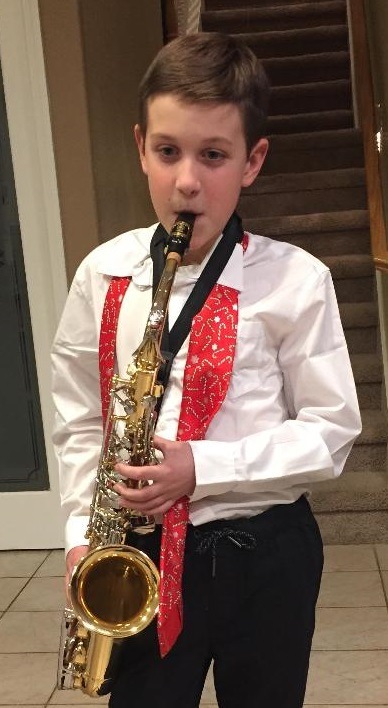 Ryan Wildblood, 10, son of Steve and Jackie, new residents of Shingle Springs, California, is equipped and nearly dressed for his first concert in December 2018. The saxophone player's grandmother Virginia, who responded readily to our request for a picture, swore that the tie would be neatly fasterned before the final tuning up. His great-grandfather, Vernon Alva Wildblood (1924-1999) played an E-flat sax in San Jose school bands about 70 years earlier.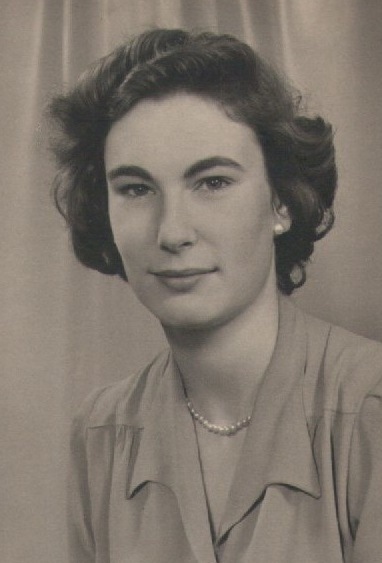 Sheelah Margaret Wildblood (1927-1969), apparently before she married civil engineer Joseph Anthony Young in Newton Abbott in 1949. Sheelah Wildblood was the daughter of bank manager and cricketer Walter Gordon Wildblood (1898-1977) and Frances Inwood (1897-1973), who married in a Wesleyan Church in Hathersage, Derbyshire. Sheelah attended Totnes High School for Girls.

This picture was kindly contributed by Sheelah's daughter, Caroline Belham. Caroline and Alan agree that many Wildbloods are blessed with bushy eyebrows.

Sheelah and Joseph are buried at Frome Wesley Chapel in Somerset. Joseph was a Sunday school leader and Sheelah sang in the choir. Both her Wildblood grandfather and great-grandfather were Wesleyan ministers.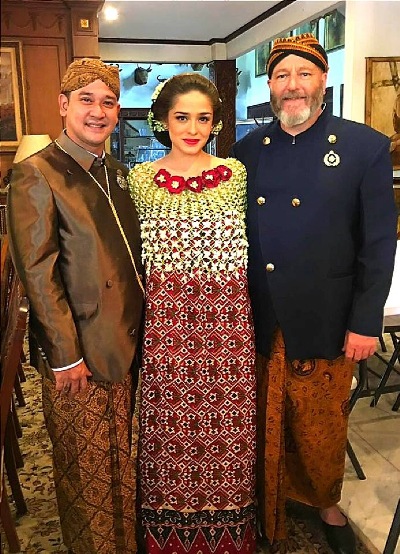 Actress Yasmine Leeds Wildblood is shown with her husband Abi Yapto and soon-to-be grandfather Michael Wildblood at the August 2016 Javanese mitoni (seven-months-pregnant) celebration. Right on schedule, Yasmine gave birth to her first child, Seraphina, that October. Why the middle name "Leeds"? Yasmine was born in Jakarta when Leeds United reigned as English First Division champion. More on Mike and his family is found in a July 2017 item under News.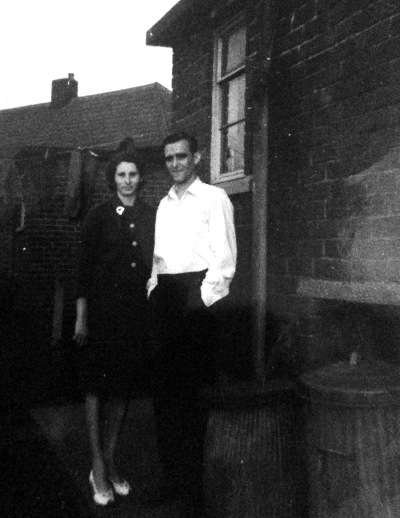 On August 24, 1953 Ethel Waddington (1933-2017) married Kenneth Maynard Wildblood (1930-1987) at Barnsley Parish Church. This photo was taken that day at the Waddington home on Ashbourne Road, Athersley Estates.

Ken roamed the world with the Royal Engineers. The sapper's stations included Gibraltar and Singapore. He continued to travel, to Wales and South Africa, as a pipefitter, was transferred by Conoco to Grimsby.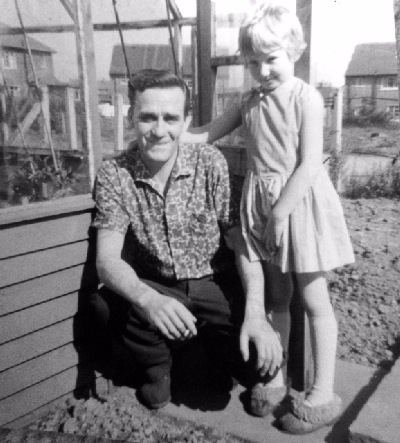 The globetrotter returned to his roots in dear old Barnsley with Ethel for his retirement years. Here we see him in the Yorkshire mining town with daughter Ann in 1964 or 1965. Ann stayed in Grimsby permanently when her parents went back to their place of birth. More on Ethel is found under News (2017). Ken's father Maynard graces our Background page.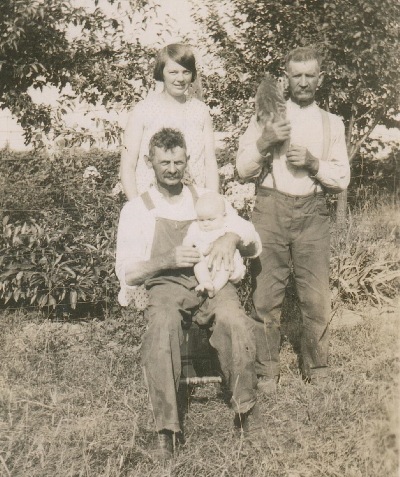 The relative lack of coverage of the Northwood, Ontario Wildblood family on this website was brought to our attention late in December 2016 by fellow family historian John Vernon Woodward living in the Uttoxeter area of Staffordshire. Thanks to expatriate Sharlie Stubbs from the Ontario family we have a choice of numerous photos to display. Here you see at top right immigrant William Vernon Wildblood (1852-1948. Seated is his son John Henry Wildblood (1879-1964). John's daughter Mrs. Elsie Spence (1904-93) at top left is the baby's mother. John is the grandfather of Sharlie Stubbs, while William and John Woodward are first cousins, twice removed.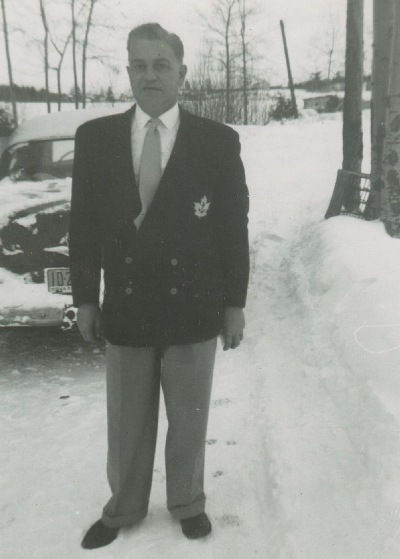 A second picture is of Elsie's brother and Sharlie's uncle, Joseph Allan Wildblood (1914-85). Born in Northwood, he opted for a career in the navy and died in Nova Scotia. More than 30 years later, we are still trying to find his exact place of death and burial.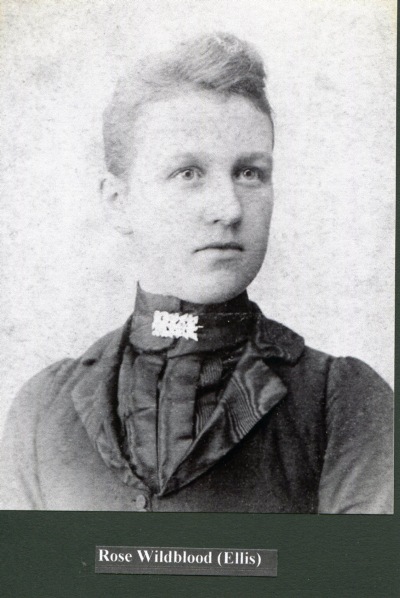 In November 2016 Chas Charles-Dunne in Norfolk found this portrait in an album belonging to his late grandmother and contacted the website author. The grandmother belonged to a family of British expatriates which lived for several generations in India. Chas and Alan were unable to find a Rose Wildblood who married an Ellis or a Rose Ellis who married a Wildblood. The pretty young lady is exhibited here in the hope that one day a reader may have a clue to her identity.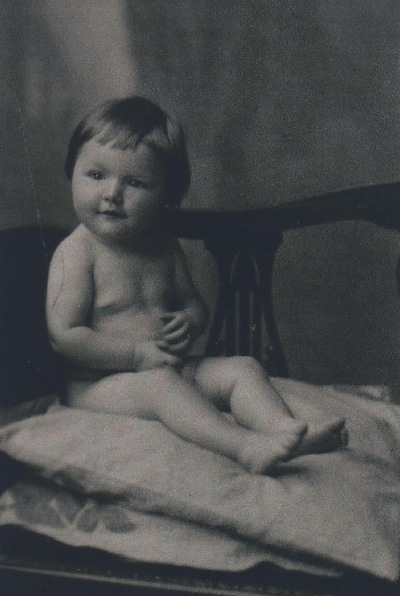 This is Miss Phyllis Wildblood, born in 1902 to plasterer Felix Wildblood and the former Margaret Lucy Smith. A few years later the girl went to St. Joseph's Catholic Primary School, Dudley. Phyllis married Abel Ruston of Oakeywell Street, who cannot be accused of robbing the cradle since the ceremony was performed in 1927. We beg Phyllis' pardon for exposing her in the buff; it is the only photo of the mother of five that is available at this time.

We thank Carol and Bob Greenaway for this picture and the two which follow.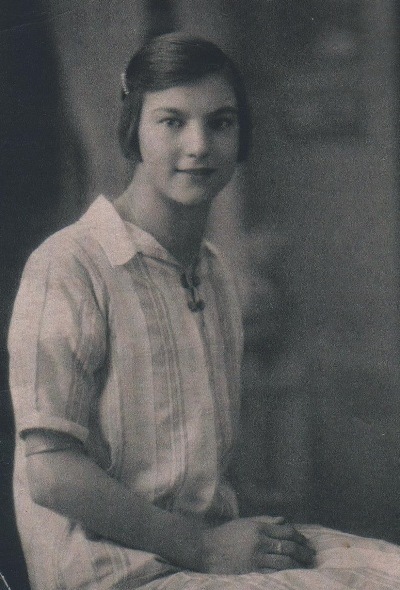 Our modest coverage features Phyllis' kid sister, Hilda Wildblood, born in 1912, in a more mature pose. Hilda married Harold Clarke in 1935 and had three sons.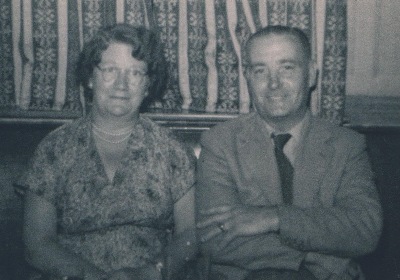 The elder brother of Phyllis and Hilda, Gerald Wildblood (1902-1999) married Maria Reed in Tipton, Staffordshire, on Boxing Day 1925. Here a sedate photo of Maria and her plasterer, known for adroitly eating a pork chop, roasted in a tin drum and skewered on a knife, at building sites. Why didn't anyone take a snapshot to immortalize that on-the-job feast?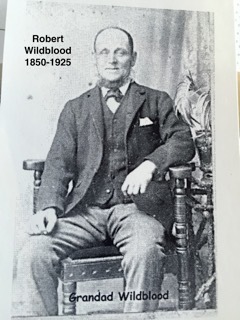 Robert Wildblood, born in Rugeley, Staffordshire, in 1846, according to civil records, spent most of his life as a cattle man around Ercall Magna and Wellington, Shropshire. He and his wife Margaret née Hall (1854-1930) rode herd on six daughters and one son, John Edward (scroll far down to "Shropshire Lad"). The daughters, with married names, were Sarah Ann Davies (see News), spinster Elizabeth Alice, Lucy Mansell, Mary Patston, Nellie Pickering and Nancy Griffiths. We thank great-granddaughter Shirley Jennings for this well-preserved vintage portrait photo and several others of this Shropshire family.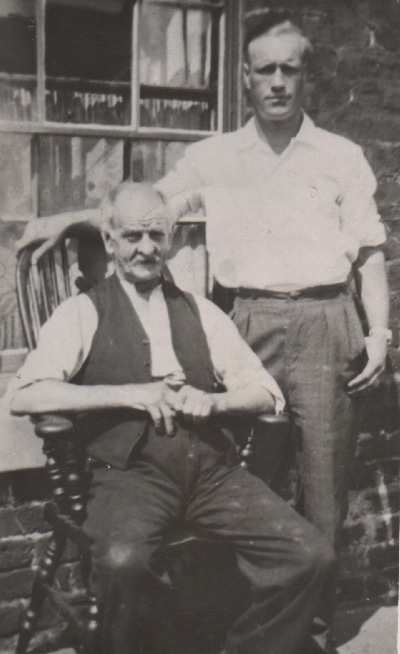 This picture was saved by Dorothy Morris née Wildblood (1926-2012) and shows Stanley Wildblood (1860-1946) and his son Horace (1911-43). It is believed to have been taken at home, 35 Waltham Street, Barnsley, in the 1930s. We have this pictorial treasure to cherish thanks to Mrs. Pamela Wildblood, wife of a much younger Stanley Wildblood, who was a baby when the picture was taken. Pam wrote in December 2014 and confirmed that the Charlie Wildblood, whose birth was registered in Barnsley in 2013, is her great-grandson and, after adoption by his mother's partner, will have the surname of Kirk.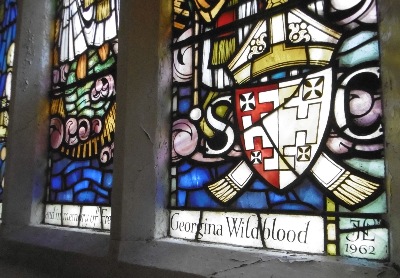 A 1962 stained glass window behind the altar at St. Nicholas Church, Fulford, Staffordshire, displays the names of Fred (1856-1944) and Georgina (1862-1941) Wildblood. Fred, a coal board and railway cashier most of his life, married Georgina Rhead in 1886. Both were born in

Hanley. The window is very hard to photograph to its full extent and with a legible inscription. The bottom of the middle panel is obstructed by a high chair back. The website developer went to Fulford in October 2014 after the picture he took on an earlier trip turned out poorly. Fred, Georgina and three of their children are buried behind the church. A plaque on a wall inside the sanctuary is also dedicated to Georgina.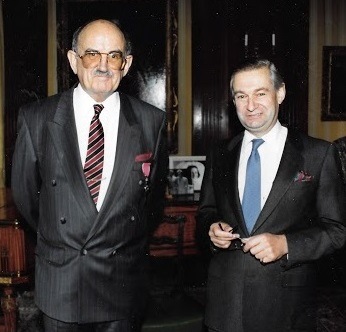 As tall as his name is wide, Charles Henry Martin Wildblood (1919-2003, on the left) during his February 1992 M.B.E. investiture by the United Kingdom Ambassador to the Netherlands, Sir Michael Jenkins. The title was awarded for services to the British community in Amsterdam. The World War II hero also earned a U.S. Bronze Star. For a while he was chairman of the British Legion in the Netherlands. This is one of numerous newer and older family album photos diligently and graciously scanned in December 2014 by Charles' son Stephen. This website will be enhanced by several more of the scans in the coming weeks or months.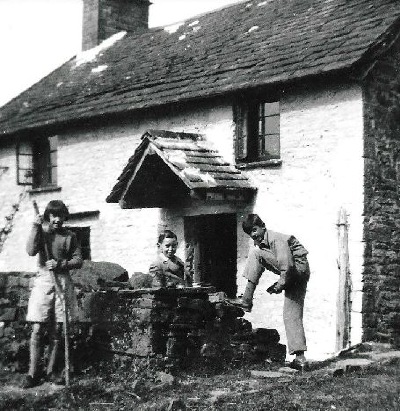 Charles was already lanky in boyhood. Here is is on the right with his sister Anne Wildblood (1922-1983), who was to become a pioneering radar researcher, and Charles' pal Basil Whiting, who grew up to be a distinguished Birmingham architect. By this date the two Wildbloods were children of a widowed mother. Humble beginnings, one might say, from the black-and-white image of the home called Whirral in southeastern Wales, and all three became big shots in their chosen fields. Anne's and Charles' wedding pictures are forthcoming on this site, all thanks to nephew (son) Stephen, coming soon as the Red Baron.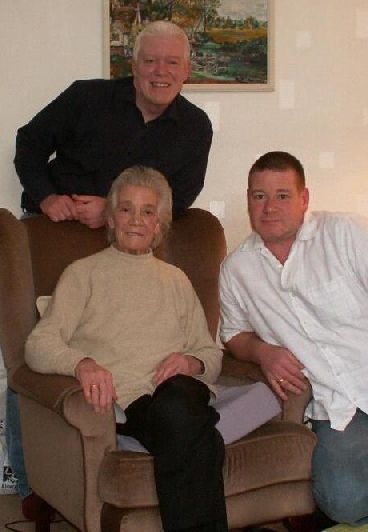 Three members of the contemporary Stockport Wildblood family, based on a migration by butcher Charles William Wildblood (1898-1982) from the Potteries to the Cheshire town. Depicted are mother Marjorie née Leeming with sons Peter (1966-2012), seated, and middle-nameless David Wildblood, standing. We are indebted to David for making this picture available to our site. He moved from Stockport to Welling, Kent, during 1987 to advance in a very successful and varied career in information technology. We met David through Facebook and thank him for his enthusiastic response.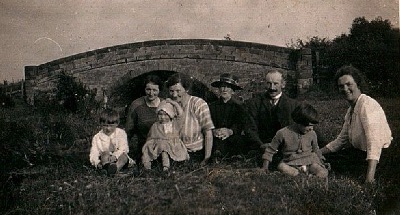 This rain-free picture was taken in 1924 or 1925. We know who most of the people are, but where was the bridge?

The lady in the hat was Betsy Vernon Wildblood (1856-1929) before she married Herbert Abberley Wetton (next to her). The Wildbloods and Wettons lived on the border between Staffordshire and Cheshire. Betsy was born in Smallthorne. Some of her family lived in Buerton. Herbert, a builder and farmer, was born in Checkley in 1850 and later lived with his family around Church Leigh. So the bridge might be near one of these places. We thank descendent and avid family researcher Helen Bisset in Queensland for this picture. Helen has tried for years to place the bridge. Shown from left are Betsy Vernon's grandson Douglas Hugo Ball, her daughter Mary Jane Ball, granddaughter Joyce Mary Wilson, daughter Betsy Wilson. The little girl on the right is Ruth Margaret Wilson, Helen's late mother. But the woman at the far right has not been satisfactorily identified. Helen and the website host are guessing she is the matriarch's daughter-in- law, née Hannah Whilock, who had married Joseph Henry Wetton in 1923. The middle name Vernon is from Betsy's mother Ann Vernon, who put Vernon on the Wildblood map in Ontario and California.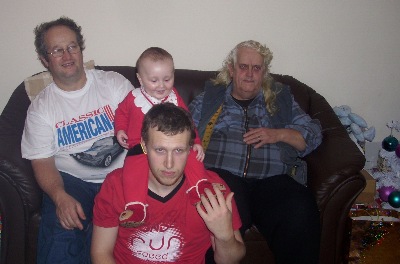 Four Wildblood men at Christmas 2011. This fast-working family has moved around from one generation to the next. You see Ian born in 1946 in Burslem, John 1966 in Barking, Jamie 1988 in Leytonstone and Oliver-Rylee 2011 in Kettering. Photo is from John's wife Kerry.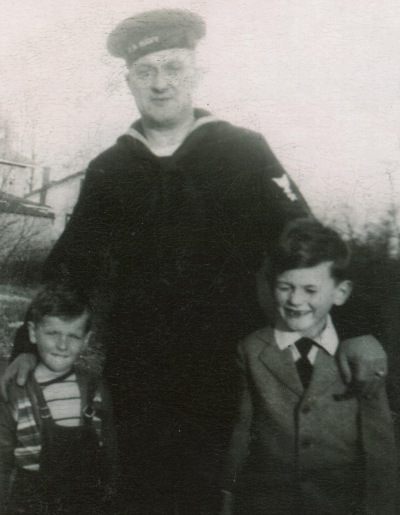 Edward James Wildblood Sr., still in uniform after serving in the U.S. Navy - for the second time - during World War II, poses with sons Art (right) and Rob (left) at their home on Scammell Avenue in Hamilton Township, a suburb of Trenton, New Jersey. The forty-plus father reenlisted in 1942 along with an older son, Ed Jr. This picture was contributed by the little lad on the left. Rob also gave us a copy of the oldest brother's essay, "Two Eds Better Than One."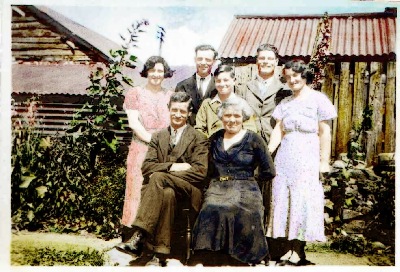 This Wildblood family lived in Meifod, and the picture was taken about 1930. It is believed the seated couple are John William Wildblood 1881-1974, and his wife, née Ann Davies 1881-1963, surrounded by their five children. By age, not position, just to be on the safe side, they are Sarah Gladys Wilkinson 1904-1983 (who can also be seen lower in this column), John William (Jack) 1906-1987, Mary Elizabeth 1909-2002, who later married Norman Jones, Evan Meyrick (Mike) 1912-1987, and Robert Aylmer, 1922-. Any descendents of Jack's siblings who see this are requested to supply us with further details.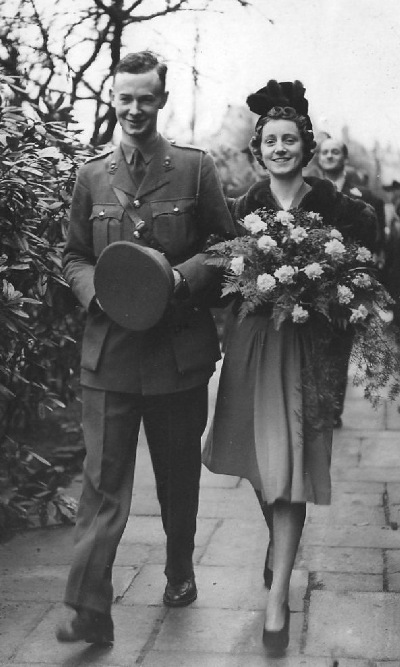 Louisa Marjorie Wildblood and Arthur Cecil Tillotson at their wedding at St. Edmund's, Roundhay, Leeds, in 1941. Louisa was the daughter of William Sydney Wildblood (1885-1926) and Louisa Gardam (1886-1972). "Until death do us part" lasted in this case a total of 55 years. We thank Arthur and Louisa's daughter-in-law, Julia Tillotson, for sharing this glorious depiction of utter happiness in a time of international tribulation.

Shropshire's Man in Manitoba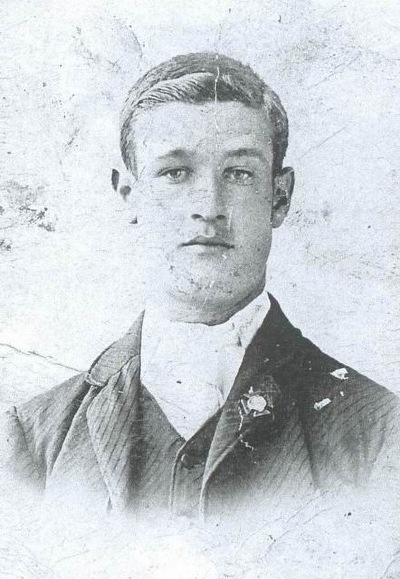 Robert Thomas Wildblood founded the little-known and tiny Wildblood enclave in between the larger groups in Ontario and British Columbia. Born in 1886 near Meifold, Wales, he married Sarah Ann Jones in 1907, arrived in Canada with his wife and a daughter in 1912 and told authorities he had worked in agriculture since 1902. The family farmed in Flozie, Manitoba. In 1916 Robert joined the Canadian Overseas Expeditionary Force to defend his native land in the Great War. The soldier returned to Canada in 1918, unfit for further service. About 1915 the couple had a son named Llewellyn, who is presumed to be the father of Garth Wildblood 1950-1997, who is buried in Calgary. This photo was shared by Robert Aylmer Wildblood (1922-2016), himself a 1940 British Army enlistee and a former Dyfed-Powys Assistant Chief Constable. Bob was a nephew of the immigrant. The portrait was graciously passed on from Aylmer to us by Barbara Simpson, an astute family historian from the area where the depicted emigrant originated. For 2017 findings on the family, see News.

Our Gladys, Mum to Eight Cheshire Wilkinson Boys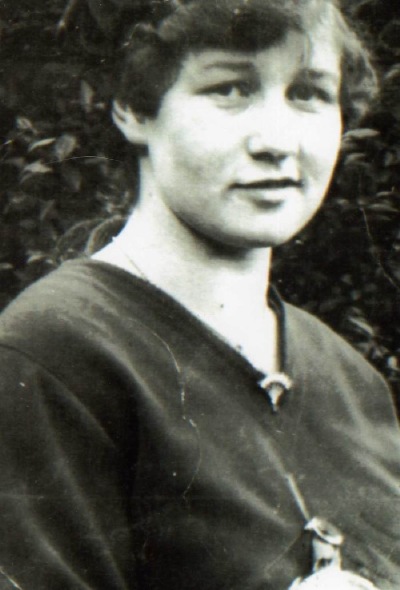 Sarah Gladys Wildblood, about the time she engaged alphabetical neighbor Harry Wilkinson. Gladys was born in Meifod in 1904, married in Nantwich in 1922 and died in Leighton Hospital in 1983. Harry and Gladys lived in Wettenhall, South Cheshire and had eight sons, no daughters. Her granddaughter Jayne Stewart has done us a big favor in supplying this and several other fading Wildblood photographs from those good old black-and-white decades.


This portrait of Mary Matthews née Wildblood (1855-1914), taken in her later years, is a contribution of her great-grandson, Michael Matthews, in Hull. Mary was the daughter of William Wildblood 1824-1887 and granddaughter of master mariner Daniel Wildblood 1787-1846. She married John Matthews in 1877. Mary was born, on Kingston Place; wed; and died, at Bromley Terrace: all in the Humber port. Our correspondent Mike, employed himself in a line affiliated to shipping, has been researching the careers of Daniel and William in 1830s registers of vessels and seamen.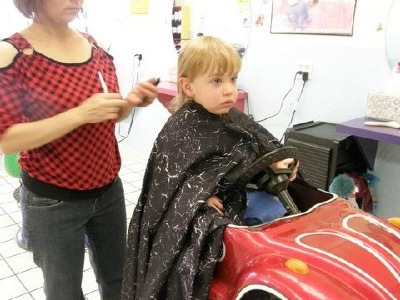 Ryan Wildblood, whose mane had been growing wild since his birth a year earlier, is being shorn by a Kinder Cut barber. Ryan, accompanied by his mother and photographer-grandmother, chose a hotrod seat over other, kid-stuff, chairs. The procedure gave the California youngster an even-more boyish look to contast with the long line of ovely ladies elsewhere in this column. It appears that only locks and no tears were shed by the hard-driving patient in this hair-razing operation.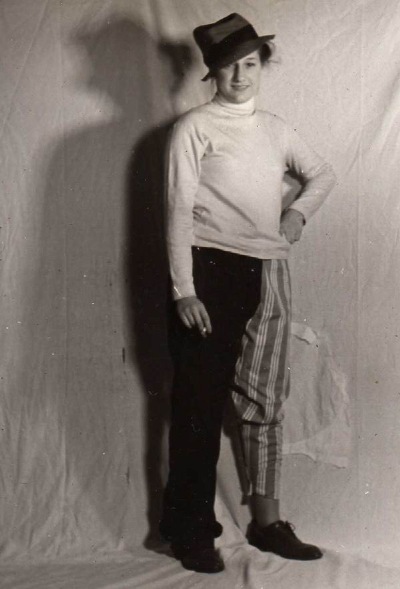 Back when the world was black and white and going to war, Thelma Wildblood, recently deceased -> News, indulged in New Year's party frivolity before settling down to be Mom Prendergast. Do not let this picture fool you: the daughter of potters and mother of chemists left many album pages of photographs to rival the English elegance of her cross-the-sea counterparts below.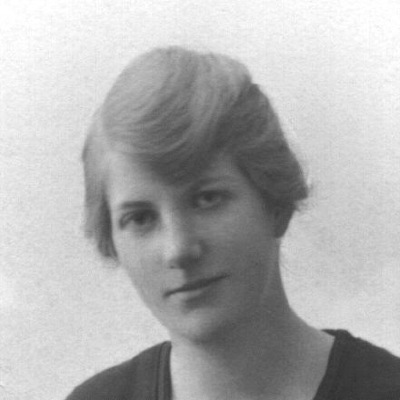 in a long line. The poster promises a gentleman the next pictorial update. We behold Doreen Wildblood's portrait shared with us by her son, Michael Checkley. Doreen was born at Erdington in 1903. She married businessman Cyril Checkley in 1931, lived in Sutton Coldfield and died in Cheltenham in 1980. Mrs Checkley was the daughter of Charles Stanton Wildblood, shown elsewhere on this site, and sister of Norah Wildblood, also depicted.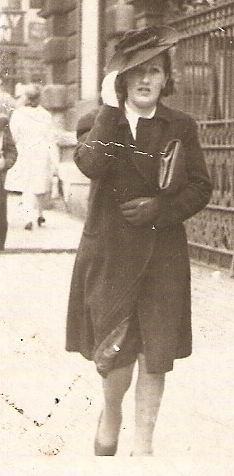 Martha Greer Wildblood 1908-1943 (the stylish lady on the left) was a member of the West Derby Wildblood family, named after a Merseyside registration district. Her grandfather John Wildblood 1842-1925 was born in Leeds and migrated in the 1860s from the West Yorkshire metropolis to Lancashire and married Emma Peacock née Goodwin, also of Leeds, in the Liverpool suburb. John was a bit of a jack of all trades. Four censuses give him variously and chronologically as a tobacco manufacturer, spirit vault manager, hotel manager and cotton porter. The family lived on Netherfield Road in Everton at the end of the 19th century. Martha was the daughter of James Arthur Wildblood 1872-1961 and Mary Jane Greer. Martha Greer Wildblood married Charles Edward Armstrong in nearby Walton in 1932.

Martha's infant daughter (depicted below) was the late Maree Diane Armstrong, born in 1936. We are indebted to Maree's daughter, Julie Norman in Winchester, for the pictures. Julie knew nothing of her Wildblood ancestry until we contacted her in November 2008. The middle name Greer turned out to be a genealogical tell-tale.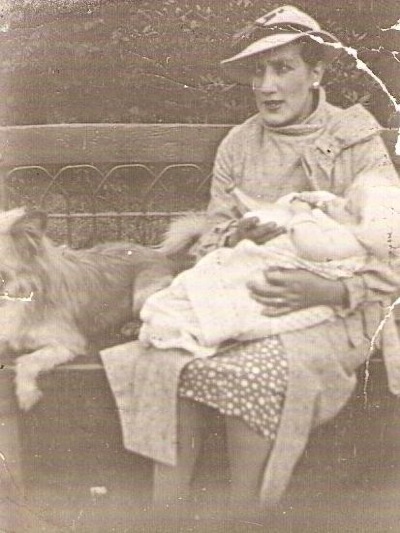 By the same token, a handful of children have been given Wildblood as a middle name, and a number of W middle initials both to mothers whose mother's maiden name was Wildblood remain shrouded in mystery to all but the immediate families. In the second half of the 20th century, descendents of the West Derby family settled in Worcestershire and Essex. The last birth in West Derby was recorded in 1961. The current location of this family puzzles the author. They did not have far to take one of those ships that carried numerous brave Wildbloods to a waiting new world.

Jenni Opens Oldest Album to Show Etruria Matriarch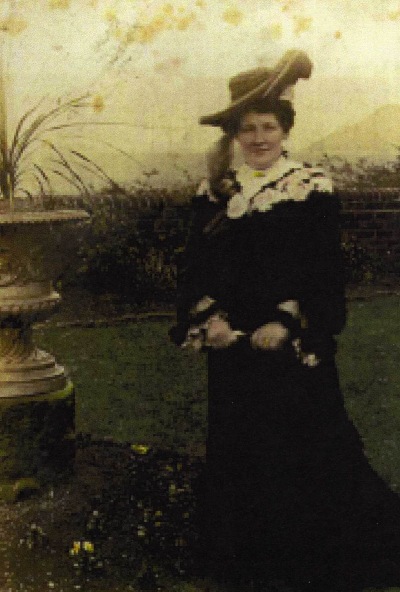 Mary Ellen Wildblood, born in 1864, in one of the oldest photos in our gallery. The portrait is of a Potteries dish, but the album is preserved in Yorkshire, by the fashion plate's great-granddaughter, Jennifer Bartram. Jenni opened her cherished dossier at her law office in Malton in September 2008 and presented your wide-ranging archivist with several copies of vintage specimens. Mary Ellen married Llewellyn Jones Llewellyn, a steel executive. The llovelly family lived at Shelton House, Etruria, before eventually retiring to Llandudno.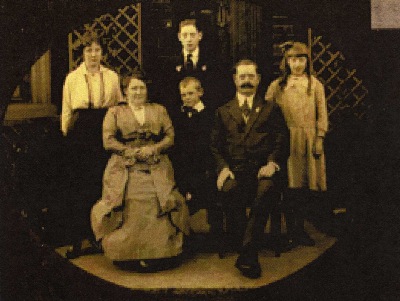 About 1912 Llewellyn and Mary Ellen dressed up for a family portrait. The older daughter is Marjorie (Madge), the younger Irene. The older son is Fred and the littler lad is Bill. Madge is the grandmother of album-holder Jennifer née Boden, who plans to probe deeper into family lore.

Dudley Groom Launches Probe Into Shropshire Roots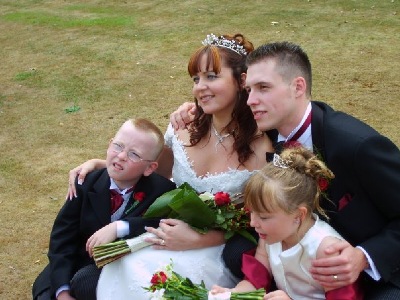 Anthony Wildblood, a fierce gunner on his Facebook, surrenders to Kay and her two children. The couple married on August 4, 2006 at the registry in Dudley, the home of a fair lot of West Midlands Wildbloods. Anthony is the son of Robert A. Wildblood and Mandy née Roberts. He has worked as a security officer for the past four years. Anthony told us about his marriage when requesting information on his branch of the Wildblood tree. The West Midlands line goes back to Thomas Wildblood 1858-1903 of Bridgnorth. It is believed he married Elizabeth Allen in 1877. That marriage certificate, soon to be ordered, should reveal his parents and connect Dudley's denizens to the Wildblood-Fleet tree, which has been researched back to 1791.

Pedal Power to the Rescue of a Horseless Carriage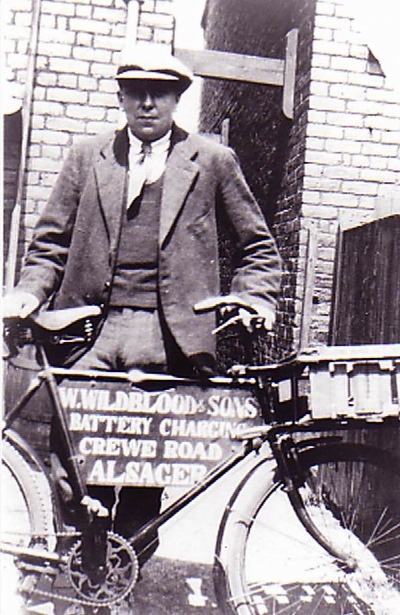 A lot of people get a charge out of this one. William Wildblood (1917-2005) is off on his cycle to aid a motor vehicle in distress. The Wildbloods ran an electrical and radio business in Alsager for decades. The son of the dapper delivery boy says the photo was taken about 1935. Bill married Phyllis Wilson in 1940. The couple had two sons, still living in Alsager. The Crewe Road crew got their juice from the cyclists mother Florence, née Birchall. The premises of the family-operated wireless shop at No. 94 on the high street became a restaurant when the Wildbloods extinguished the lights.

Lady With Lots of News in Her Biography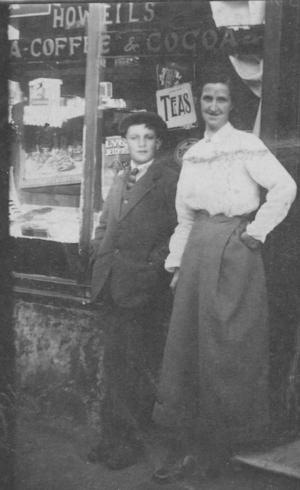 The former Sarah Ann Wildblood (1883-1964) from New Bridge, Montgomeryshire, is minding Howells Shop at Birkenhead in the 1920s. The storekeeper is taking a break to pose outside, presumably with one of her sons, William Henry or Joseph Hurleston Davies. Sarah belongs to the Welsh branch of the northeast Shropshire Wildbloods. She was the daughter of William Wildblood and Mary née Richards. Sarah was a servant until she married William Charles Davies at Bont Newydd Chapel in 1909. Her coal miner husband died fighting in France in 1914. The widow moved to the Wirral and married soap worker Joseph Henry Howells in 1919. The coffee and cocoa couple lived at 478 New Chester Road, New Ferry, putting a lot of news into the Wildblood chronicles. The photo is a gratefully received scan by Barbara Simpson, who has lived in Cheshire, Ohio and Staffordshire. Barbara was born a Davies and is Sarah's historian granddaughter.

Son of an Itinerant, Father of a Gypsy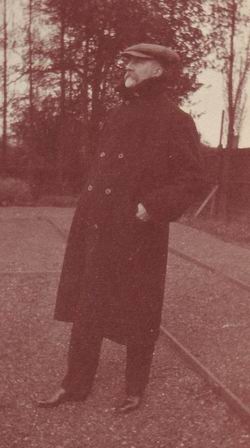 Charles Stanton Wildblood 1868-1948, partner in Canning & Wildblood, whose father was a commercial traveler, settled down here at Sevenoaks, Birmingham. He and his wife, who was introduced on the homepage of this website, had no sons, but the couple delighted in four daughters. Marjorie 1896-1953 waited until 1948 before marrying Leonard Wall. Hilda was born in 1897 and died in 1899. Doreen feathered the nest in 1913. She left the parental home to attach herself to Cyril Checkley in 1931. And...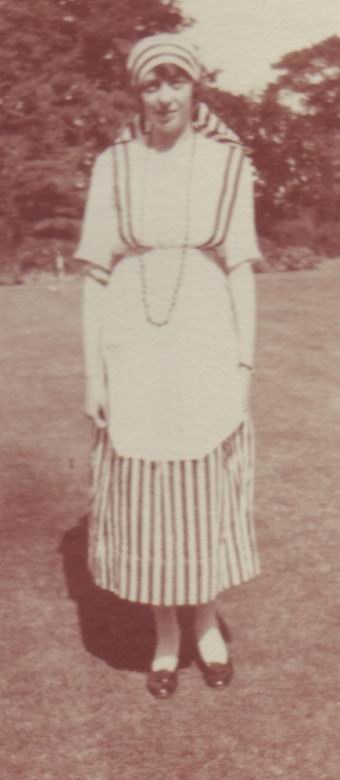 ...third of four, but not least, Norah, who usually dressed as a Nightingale, but here dons a fancy costume to wait on a table for the Somerset Road Wesleyan bazaar in the flapper days of June 1921. Born in 1899, Norah passed away in 1980, faithful to the name Wildblood from her cradle to her grave.

Pretty as Eve, But She's an Adam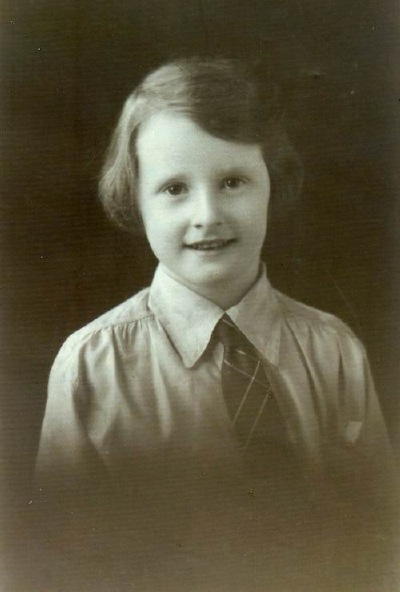 It looks like we have a lovely to one-up the fellow below. This Lancashire lass is Audrey Adam (1924-2000) destined to become the first apple of Anthony Wildblood's eye. Audrey was the mother of Diana and Susan Wildblood, now Smith and Williams, respectively.

Shropshire Lad's Handsome Portrait Survives a Century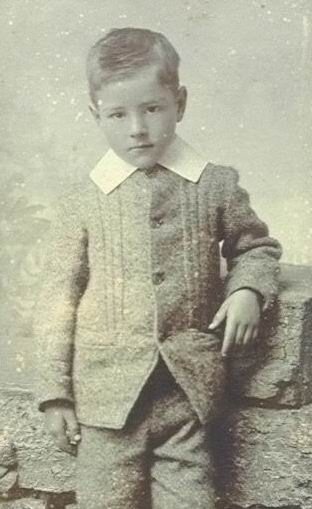 This good-looking chap is John Edward Wildblood, born in High Ercall, Shropshire, in 1891. Amazingly, the well-dressed fellow did not marry until 1949, when he was caught by Miss May Elizabeth Maddison (1899-1971), too late to give anyone the right to brag they take after him. He died in 1971 in Rodington. Edward was the son of Staffordshire-born Robert Wildblood and a Salop lass named Margaret Hall. What he accomplished in his 80 years gracing our planet is currently a mystery to the author. John's photo was received on October 11, 2007, from Andrew Tomlinson in Crewe, a diligent researcher found through Genes Reunited. The boy on the left is Andrew's great-granduncle. The subject of the portrait by Williams & Williams of Salop had seven older sisters so he apparently was in to hurry to find a wife to keep his collar immaculate. But he had no brothers, making his lack of offspring a loss to the family name and to our genes pool.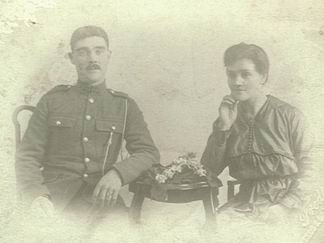 One of the sisters was Annie Nancy Wildblood (1887-1978), who passed away in Cheshire. She is shown at the left with her husband, George Griffiths. The couple married in 1917, had two girls, and stayed side by side until George died in 1960. This portrait is a bit more of your usual family history illustration, contrasting with one below from the fun-loving fifties.

Coal Miners Ride to Blackpool for Clean Air and Fun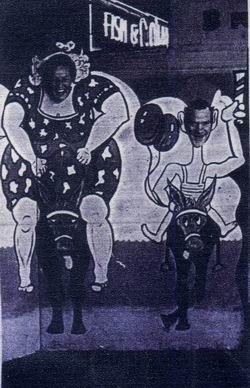 Back in 1953 the Wildbloods of Barnsley, coal miners almost all, spent summer holidays at sea level in Blackpool. Here we see donkey-busters Mary Josephine Claypole Wildblood and husband Roy on such an outing. The couple were the parents of the late Joyce Wildblood Hirst and Freda, our informant, whose youthful photo adorns other pages on this site. Roy was the son of Stanley Wildblood (1860-1946) of Smithies and Sarah Ann Deakin, who was born in Stourbridge in 1869, lost two youthful sons in the Great War and met a tragic death in 1924. When not posing frivilously, Roy performed various underground tasks in the mine. Day shift was from 6 to 2. Afternoons were from 2 to 10 and nights were 10 to 6. He usually went to work on the pit paddy while employed at Wharncliffe Woodmoor Colliery, four miles from home. Sometimes he would walk all the way, so a donkey ride was a rare treat.

Rhys Born in Scotland to Welsh Dad with Irish First Name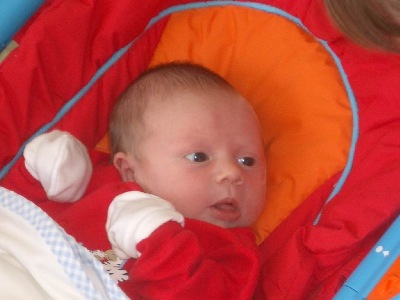 Rhys Patrick Wildblood was born in March 2007 at Aberdeen Royal Infirmary, Aberdeen, Scotland. His father is Patrick David Wildblood, previously of Welshpool, Powys. The lad's mother was Lorraine Elizabeth Cook from Glasgow. Baby Rhys, who weighed 8 lbs 4 oz at birth, was a lot bigger by May.

He Was One of Hamilton's Finest - Ronald James Wildblood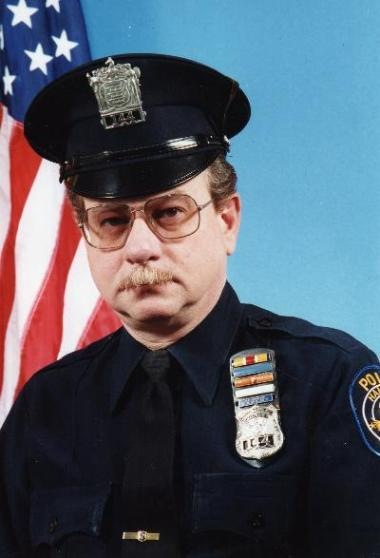 Ron Wildblood, Sr., retired from the Hamilton Police Department in Mercer County, New Jersey, in February 1993. He had been a patrolman and composite artist for the suburban township force since December 1968. Ron died in Hamilton, where he grew up, in December 2003 at the age of 54. This photo was finally obtained in October 2006, courtesy of fellow officer, Lt. Michael Kane. Ron joined the law enforcement agency after serving in the United States Army. He was a Civil War buff and reenactor. Son of the late "Tiny" and Mildred Johannes Wildblood, Ron is one of many Wildbloods who have worked to maintain public safety in diverse localities.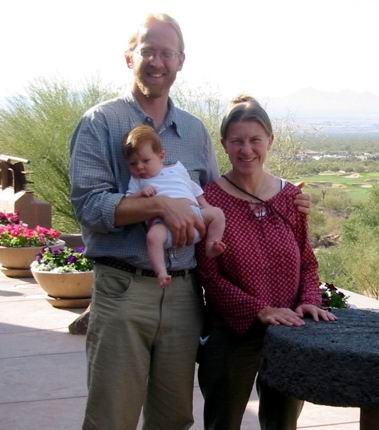 Jessie Inches Up In The World. She was a low-down newborn on this site for months. Now we see her after climbing a notch last Christmas with her geographical and biological parents, Bruce and Megan Wildblood-Crawford. The location of the holiday family portrait was not disclosed, but judging by the summer clothing, it is bound to be down home in New Zealand. The kewt Kiwi caught her first breath in Christchurch during October 2005.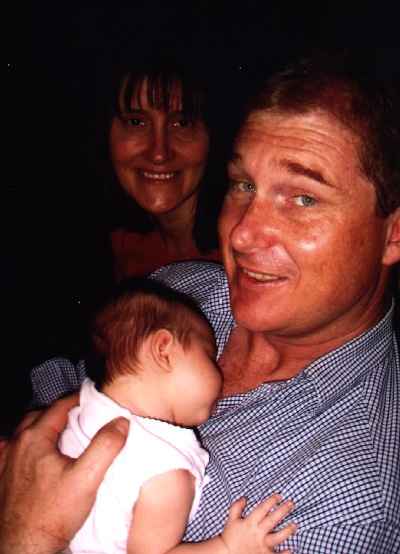 The youngest Wildblood I knew of then, Sienna, was born one month later, in November 2005. The little squirt lives with father Sean and mother Britt in Camp Hill near Brisbane, Qld!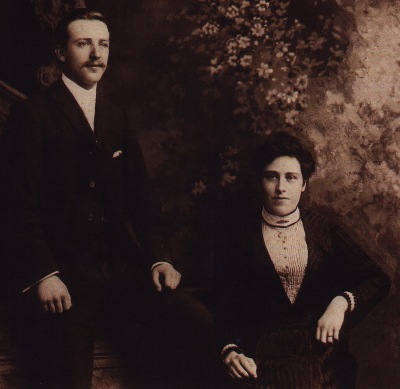 Here are the ancestors of Sean, Thomas and Martha, who moved from Shrewsbury, Shropshire, first to lay communications cables, and then to raise poultry at Armidale, NSW.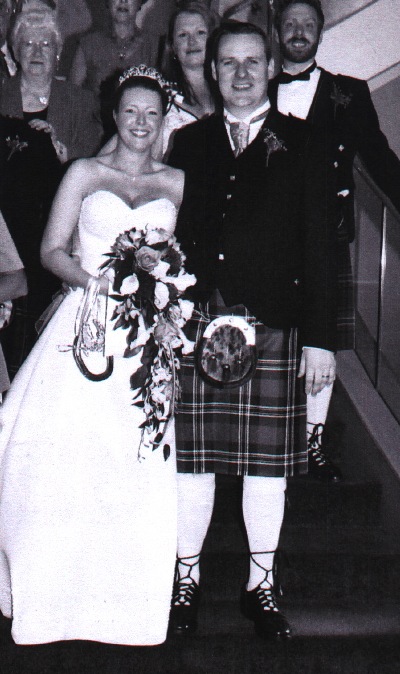 Louise Wildblood marries Kevin McLean in Edinburgh, Scotland on June 18, 2005. The lady at the top left of the picture is Alice Wildblood of Bury, a fellow genealogist. She provided us with the photo. My apologies for the belated posting. Alice's husband Fred is the first cousin, once removed, of the bride.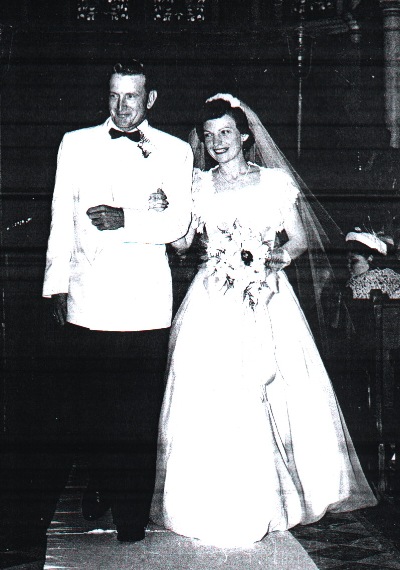 Ruth Wildblood marries Emile Martin on June 10, 1950 at Our Lady of Prompt Succor, Westwego, LA. She must have been a beautiful baby, and if you don't believe your reporter, set your sights a little lower.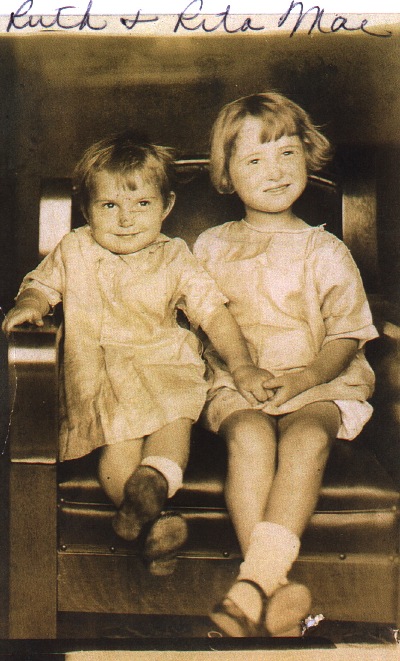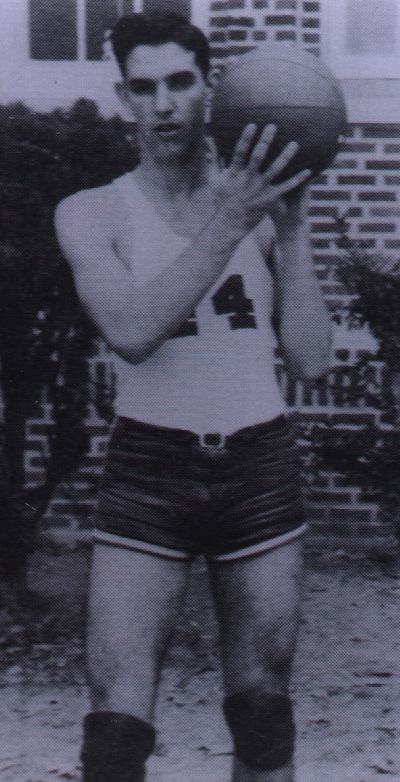 But back to 1950. Lloyd Lamar Wildblood I plays for Merryville High. And so does his soon-to-be bride.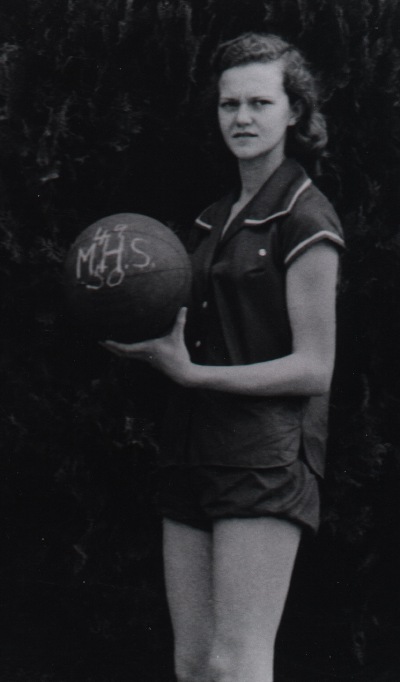 Will Jeanienne Stark took that daunting on her wedding day...?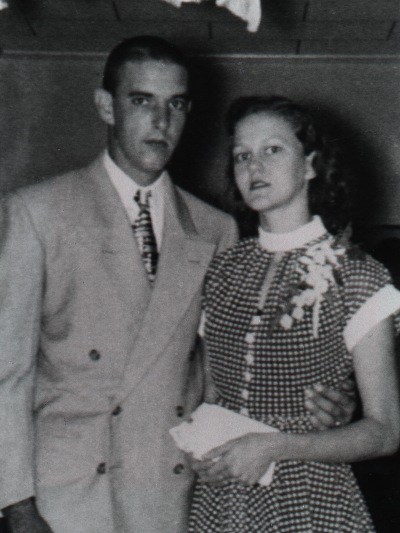 September 15, 1951. Miss Stark becomes Mrs. Wildblood. A Primitive Baptist wedding at home. After surviving a DeRidder tornado, the couple celebrated their 50th anniversary with three children and grandchildren in 2001. The three pictures were graciously submitted by Debbie Kelley, their oldest daughter.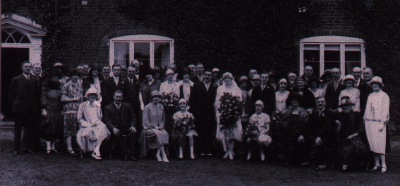 We go back one generation, to June 1926. when Richard Vernon Wildblood married Marjorie Vernon. The double-Vernon ceremony was immortalized at Hales Farm, near Market Drayton, Shropshire, currently a motorcycle sales outlet. It was the home of the bride's parents in those days. Thanks to the son of the newlyweds in focus below,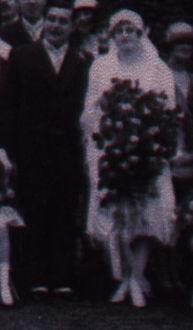 Richard Vernon Wildblood of Burton-on-Trent (Bass Ale City), for the picture. He identifies the girl next to the bridesmaid above as Margaret, daughter of his aunt, Nellie Wildblood, and Percy Hines. Richard is a retired Armitage Shanks executive, and like the writer of these pages, descended from a long line of potters. Since retiring, Richard has continued to pursue skiing, his fountain of youth since 1937, given a WI talk on ceramics and has become a faithful correspondent and able croquet trainer of Mr. Wildblood Org. Although rooted, employed and retired in Staffordshire, R. V. Wildblood III has been around. He was educated in Kent and at Shrewsbury School in Shropshire, negotiated slopes in Switzerland and Spain and served his country in Scotland. Faithfully married for 51 years, he remains "the absolute star" in his wife's eyes. The maiden name Vernon has been passed down through many generations of Wildbloods in England, Ontario and California.

Archive photos, both recent and ancient, will hopefully remain available.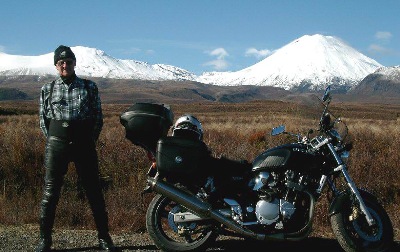 Our mid-2006 cover boy was Doug Wildblood on one of his tours around New Zealand, his third homeland. The shot was snapped a year earlier at Mt. Ngauruhoe, about a month after he gave the Wildbloods of Germany a spin around Wellington in one of his bigger vehicles.